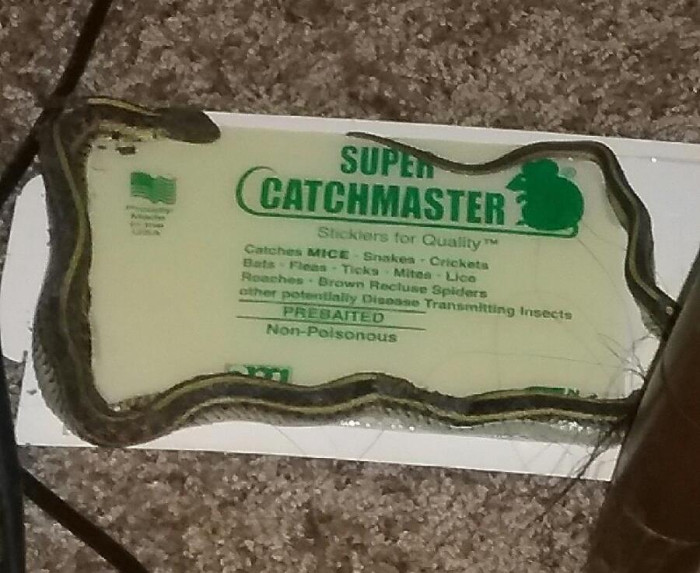 A woman in the American Midwest has described her horror after being told she couldn't move out of a snake-infested apartment with her two terrified children because she'd lose her deposit.
Mum-of-two Tonya Bell, from Kansas City, Missouri, first realised her home had a problem with pests when she saw mice jumping around soon after moving in.
"The mice were really bad, jumping in and out of the trash cans. Eating on my bread. Everything," Bell told Fox4.
However things were soon to get a lot worse - when she found eight snakes in just five days at the property.
"My kids don't want to come home. They want to stand outside. They want to sleep in the truck," said Bell, who managed to catch one of the snakes in a sticky mouse trap.
"I'm like, 'Wow!' You know, that could have gotten around my daughter's neck. Anything. It could be poisonous."
Unsurprisingly, Bell found living conditions at the house unacceptable and, despite having signed a two-year lease, was told by her landlord and the local housing authority that she could leave. Yet she was then told that $500 (£404) of her $600 deposit wouldn't be returned, even though according to her contract the money can only be held back if there is damage to the property.
Without getting her deposit back, Bell claims she won't be able to afford the deposit on a new place. "I'm living pay check to pay check. I really need that money. It was hard for me to even get up all the money to give to them," Bell told Fox4.
Now Bell has started a GoFundMe page, "Getting away from the snakes", to raise $500 for a new deposit. At the time of publication it had already raised almost $1,000.
"This money is gonna be a great start to use for us to get food and hotel until we are able to move into another home," wrote Bell. "I didn't know what I was gonna do to get me & my family to a safe & clean spot to lay our heads again thank u to all that stepped up & to the ones that wanted to help but couldn't. We are greatful [sic]."