Mobile Game of the Week: Winter Walk
Hold on to your hats...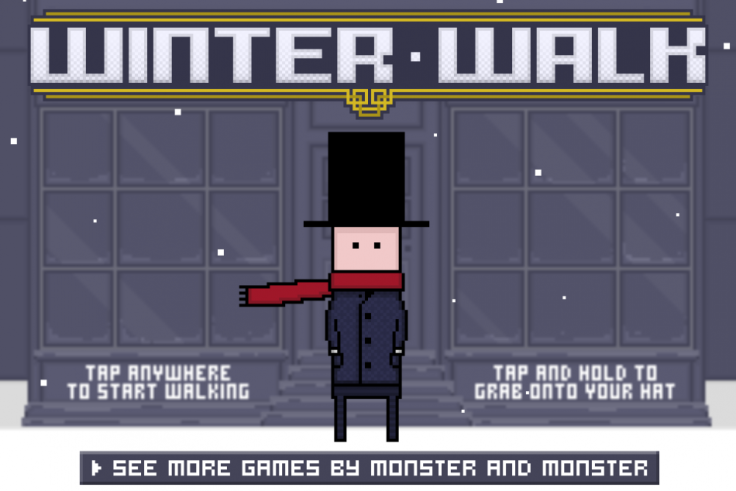 Key Features
Developer - Monster and Monster
Publisher - Monster and Monster
Device tested - iPhone 4
Price - Free
Winter Walk
Endless running games are everywhere on the App Store. There's Indiana Jones-em up Temple Run, which has so far garnered more downloads than the trial version of Winzip, Line Runner, a prolapsingly difficult 2D platformer which tests your patience as much as your reflexes, and Jetpack Joyride, a quirky and beloved action game from the folks who made Fruit Ninja.
There's also Winter Walk, from developers Monster and Monster. A neat parody of endless runners, you play a priggish Victorian gentleman out walking on a windy day. As the breeze gets up, your top hat starts to rattle, prompting you to tap the screen to hold on to it to stop it from blowing away. The more steps you can take without losing your hat, the higher your score.
Throughout the game you're accompanied by the gentleman's idle, mental wanderings, as he ponders whether he should hit the town in his finery to impress the ladies, or buy a dog to bring with him on his next "constitutional". It's dry, amusing stuff, perfectly suiting the game's deliberate, slow pace.
Hilarious
Getting the hang of Winter Walk's single mechanic is harder than you think; the current App Store world record is only 1500 steps. And in the way that Line Runner's relentless difficulty curve and speed can get on your nerves, Winter Walk's glacial tempo catches you off guard, letting you walk un-blown on for fifty steps or so before hammering you with a quick succession of breezes. The game is an hilarious kind of anti-thrill; the combined mundane situation and tricky gameplay make for a typically British sense of humour.
It harkens back to games like Hovver Bovver, where your goal was to finish mowing your lawn while avoiding your neighbour's pesky dog. Put next to rapid fire chart toppers like Temple Run, Winter Walk is a much more interesting affair, every bit as dignified and risible as its player character. As a game in of itself, it's a pitch perfect mix of challenge, accessibility and addictiveness; as a send up of endless runners, it's hilarious.
Developer Monster and Monster was on hand to show off Winter Walk at GameCity7 this week, having adapted the game to work with an Xbox 360 controller. The two man team of director Dan Griffiths, and designer/artist Dave Fullick is currently working on Deep Loot, a 2D platformer set underwater. Winter Walk is their third game, having previously turned out flash game 1UP and Zombies Hate Pumpkins, which is also available for iOS and Android.
A genuinely funny spin on the oversubscribed endless running genre, Winter Walk is both fun to play and tricky to learn. It's free, too, available to download for nothing from the App Store and Google Play right now. If you're into endless runners (statistics show that all of you are) then you have no excuse not to indulge in Winter Walk. Hats off to Monster and Monster.
Overall Score: 9/10
© Copyright IBTimes 2023. All rights reserved.