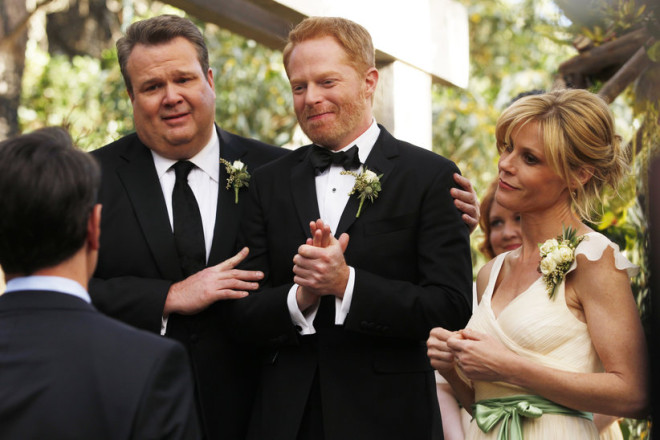 Modern Family Season 5 finale - Episode 24 'The Wedding, Part 2' airs Wednesday, May 21 on the ABC Television Network.
Cam (Eric Stonestreet) and Mitchell (Jesse Tyler Ferguson) will tie the knot in what could be the highest-rating episode for the comedy show, according to Examiner.com.
"I actually really applaud the writers for sort of going there with that relationship. I think it's something very real and a lot of parents sort of have their own evolution with accepting a gay kid, and certainly Jay (Ed O'Neil) is going there with Mitchell," Ferguson said dishing out Modern Family Season 5 spoilers during a guesting in Good Morning America last week (via KDramaStars).
The popular TV show's focus on the marriage between Cam and Mitchell throughout Modern Family Season 5 positively reflects how the country has become more lenient and accepting of gay marriage and equality.
"I can't ignore that the show has social ramifications. And I think there's something really lovely about the way our writers have introduced Cam and Mitch to America. And for a lot of people, they might be the first gay couple that they know. Or at least that they know are definitely gay. And I think it presents them in a very safe way," he said.
Modern Family Season 5 finale 'The Wedding, Part 2' will air on Wednesday, May 21 on ABC at 9.00 pm ET.
Click here to watch the live stream of the episode.
You can also view the episode online on ABC's official website, the very next day, by clicking here.