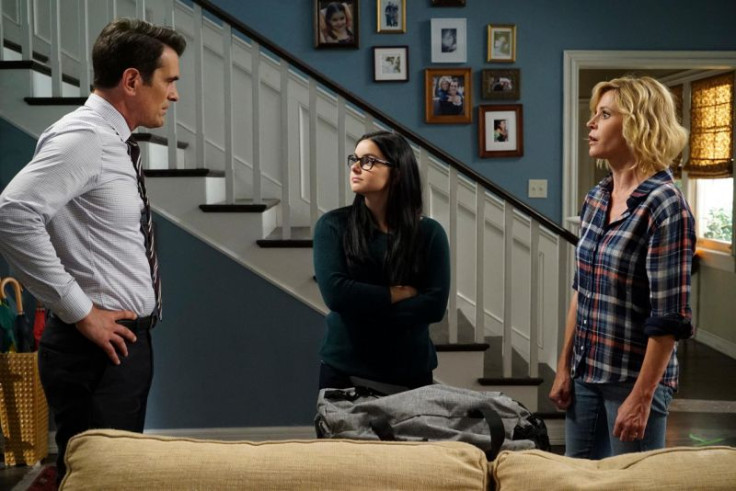 Alex is determined to keep her college move low key, while Mitch and Cameron have some high-end drama with renting out their top unit on Modern Family season 7's second episode. Episode 2 is titled, The Day Alex Left For College, which airs on Wednesday, 30 September at 9pm EST on ABC Family.
The official synopsis reads as follows:
Click here to watch the episode via live stream on ABC Go, or click here to watch the episode online. Although Ariel Winter's character is headed to Caltech college, co-creator Christopher Lloyd revealed that cast members will visit her and teased that the show will use social media to keep Alex in the show.
Lloyd told Yahoo TV, "We didn't want to do a TV thing where she goes away to college but decides she'll be at home all the time, so it was just easier to keep her on the show. She goes to college. And we have cast members that go visit her there, and she's home on weekends sometimes or in the house via Skype, or home sometimes to visit friends and not the family, as sometimes happens. It's a change in the family dynamic, which is something that happens."
With Alex leaving the house, Phil will be more heartbroken than Claire, revealed Lloyd. "I think it hits Phil a little bit harder than it hits Claire, because Claire's more involved in her professional life at this point, especially as Jay starts to make some noises about retiring. She's much more immersed in her work life, but Phil takes it kind of hard."
He added that with Hayley less in the house and Luke with his own issues, Phil will go through a "crisis" phase. "Haley's less and less in the household; Alex is gone; Luke kind of develops a bit of a criminal streak this season, which kind of removes him from Phil's orbit just a little bit; and Phil goes through a — it's not a crisis — but he's definitely feeling the effects of having his family pull away from him a little bit. He takes some ducks under his wing for about 10 episodes. One of the ways Phil copes."