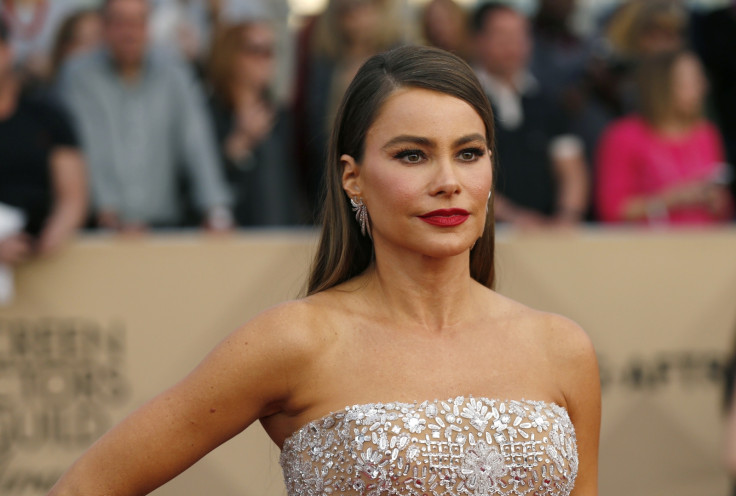 Sofia Vergara's beauty is surely age-defying. The Modern Family actress took to social media to promote her upcoming venture called EBY, Empowered By You, which delivers seamless undies for women.
The 45-year-old Colombian beauty, who is also one of the highest-paid actresses on television right now, posed in black underwear and a white t-shirt with "Empowered by you" written on it for an Instagram ad to promote her venture. Keeping her long hair open, she posed for the camera, with both hands tugging down the t-shirt.
She captioned the Instagram post saying, "EBY is an amazing, comfortable seamless underwear with patented technology that keeps the underwear in place and prevents sliding. Sizes XS to 4X, every pair is the same price."
She concluded by adding, "And 10% of net sales go to microfinance loans to empower women around the world into business. www.join-eby.com @joineby".
The post has already garnered 163,352 likes from her 13.1 million Instagram followers with most fans commenting on her flawless look. One user said, "You look amazingly gorgeous," another called her, "forever young".
"She's still beautiful," wrote a fan of the Modern Family star, while another noted, "I still can't believe that your like 40 and you still look good girl." A fan congratulated her saying, "Congrats on being highest paid actress! You've come a long way lady."
Amid all the positive comments, some fans are pointing out that her photo may have been photoshopped.
One user said, "I have no idea why they used Photoshop in this picture, Sofia's natural face is much prettier." Another noted, "You are a beautiful woman @sofiavergara, it's a shame this photo was so heavily photoshopped. You look amazing without it!"
"Photoshopped? Ok, I still wouldn't look that great! Good on you, Sofia!!" read a comment.
Previously, the actor opened up about her just-launched subscription underwear company with Yahoo TV. She said, "I had to make money, and to me that's why it's so important that with this business that I am giving business to other women, so that they can start their journey and help their family. I was always motivated by that, by having that safety net."