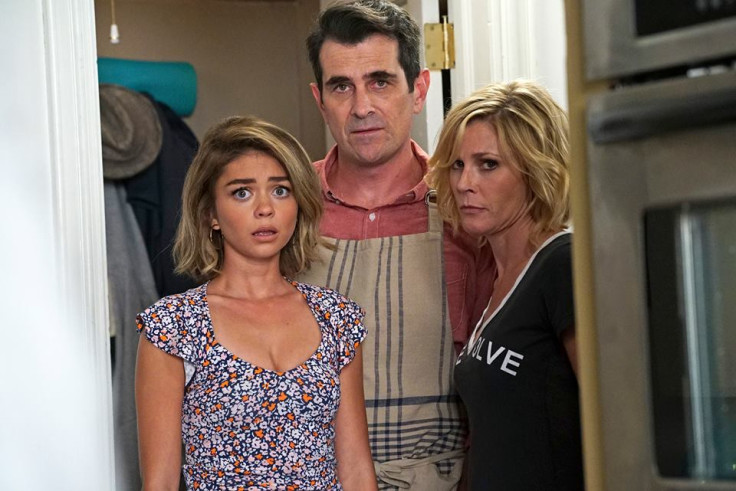 Modern Family actors have wrapped filming for season 8 of the award-winning comedy. Actor Sophia Vergara took to social media to share several set photos, and called it the "last shooting day", fueling speculation that the show is ending this season.
ABC has not announced if the show has been renewed for season 9.
Vergara, who plays Gloria Delgado-Pritchett on the comedy, posted a video of herself on Instagram with co-star Jesse Tyler Ferguson (Mitchell Pritchett) and captioned it as, "Last day of the 8th season#modernfamily." She shared another cute photo with her youngest on-screen son, Jeremy Maguire (who plays Joe Pritchett) and wrote. "Last shooting day#modernfamily."
Vergara also shared photos of the show's cast and crew and wrote, "Miss u guys alreadyyyyy!!#modernfamily season8 #lastshot."
A report in Deadline has also said talks between ABC and 20th Century Fox about season 9 renewal started sometime back, with the studio initially seeking a two-season renewal. "Though I hear the network was interested in a one-year pickup, so the multi-year order is likely off the table, at least for now," added the report.
The report also added that negotiations between the cast and 20th TV started more than two weeks ago, but no announcement is made as of now.
Modern Family actors Sarah Hayland who plays Hayley Dunphy and Rico Rodriguez who plays Manny Delgado-Pritchett took to social media to talk about season 8 filming wrap and are hopeful that the show will return for season 9.
Alongside a photo of the whole cast, Hayland wrote, "After 8 years of being on a tv show such as #modernfamily I have to say, with the most love in my heart, how proud I am to be a part of something so iconic. 8 years!"
The actress/ singer added, "Thank you guys for watching and sticking with us through all of our fake family ups and downs! This has been the most amazing experience of my life! Hope to see you all for another season!"
Rodriguez is hopeful that there will be 8 more seasons of Modern Family. He wrote, "That's a wrap on season 8 of #ModernFamily! Never in my life did I think I would have the opportunity to be able to work with such a fantastic group of actors and crew members. They come to work everyday ready to work hard and create something special! Not only am I lucky to call them friends, but I'm able to call them my family! Cheers to 8 great seasons and hopefully 8 more."
Modern Family airs Wednesdays (9pm ET) on ABC.