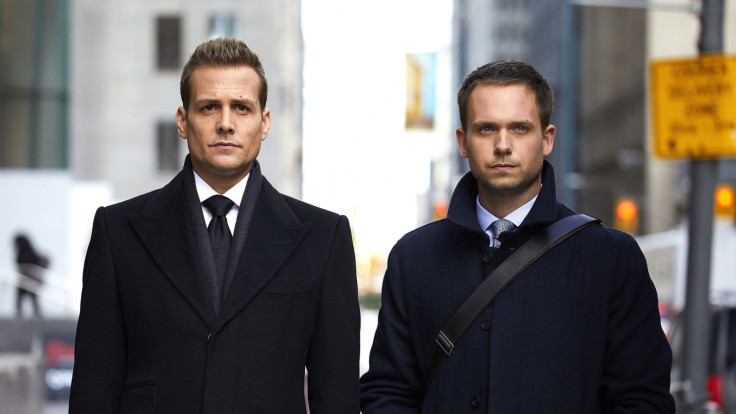 After spending five seasons as a fraudster, Mike Ross finally became a lawyer in the season 6 finale of Suits that aired on 1 March at 10pm EST on the USA Network. In episode 16 titled Character And Fitness, Mike cleared the bar – thanks to Jessica Pearson's last-minute efforts.
The former boss of Pearson Specter Litt (PSL) returned just in time to take the fall – for employing a fraud at the firm – and showed Anita Gibbs her place. The chapter ended with Harvey offering Mike a lucrative job at PSL, which he accepted after putting forth a terms of his own. The episode also saw Tara and Louis part ways, while Donna took a buyout offer on her business venture – The Donna – but could not help herself feel unsatisfied and wanting more out of life.
Going into season 7, the show will mark the return of the dynamic duo of Harvey and Mike. Executive producer Aaron Korsh talked about Mike's future as a legit lawyer, Harvey and Louis' potential conflict and Jessica's surprise return.
In an interview with TV Line the executive producer revealed Mike's future as a legit lawyer and Harvey embracing his role as managing partner.
When asked about Mike's big moment, Korsh explained, "It relieves him of the burden of feeling like he's a fraud and always waiting for the other shoe to drop off, 'Is he going to caught?' Mentally, it's going to allow him to step out of the shadows and maybe behave with a little more confidence..."
The upcoming season will find the lawyer in a "shark-infested world of New York corporate law" as Korsh put it. "It's a relief, to some degree, for the entire cast of characters, that they no longer have this thing hanging over their heads. It allows them now to just worry about what it's like to be a lawyer in the shark-infested world of New York corporate law.
As the finale ended with Mike asking Harvey to be the managing partner that PSL deserves, it remains to be seen, if he accepts the offer. According to Korsh, Harvey emerging from Jessica's showdown will play out in season 7. He told the outlet, "That is the question. Mike has sort of thrown down the gauntlet: 'Time for you to take the reins'. Harvey's certainly going to attempt to do that. And really, in bringing Mike back and making this deal – one for you, one for me – in some sense, it's his first unilateral move. He didn't ask Louis if he can do that."
The showrunner concluded by saying, "He might not have fully thought it through, because, as we've shown in the past, pro bono cases often end up being at odds with your corporate clients' interest, and that's going to come to the fore... People's reactions to Harvey taking those reins and emerging from Jessica's shadow is all going to play into Season 7."