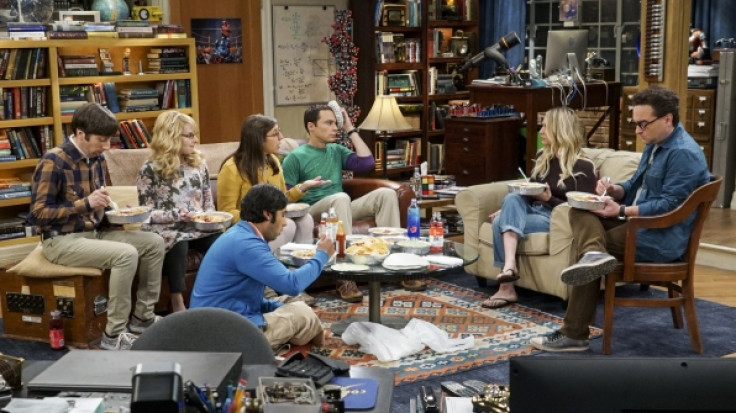 The Big Bang Theory season 10 will go on a week-long hiatus and return with new episodes next week, 9 March at 8PM ET/PT on CBS Network.
Episode 18 is titled, The Escape Hatch Identification, where Rajesh Koothrapalli searches for a cheaper living arrangement.
Fans remember that the Astrophysicist cut himself off from living off his parent's income in previous episodes and appointed Sheldon as his financial manager.
According to a report in TV Line, the upcoming episode will feature the return of Christine Baranski as Leonard's mother Beverly Hofstadter, who will provide some expert advice on Leonard and Penny's marriage. The report says, "the renowned shrink helps Sheldon navigate a personal issue and unwittingly lobs a grenade on her son's marriage to Penny."
The report also teases about Raj and Stuart being a couple, and adds "two of them getting very cozy on a couch during the aforementioned March 9 episode."
In the previous episode, the gang struggled with going to the Comic-Con. While Raj resorted to selling off his collectibles to make enough money to be at the event, Howard became a housemaid and took care of chores to persuade Bernadette to let him go to the event for five days.
Meanwhile, Penny volunteered to go to Comic-Con with Leonard to make him happy, even though she is less than interested to go. Also, Leonard doesn't really want her to go with him because he knows it will make her miserable, but neither can gather up the courage to tell each other. Later, Sheldon and Amy reveal the truth to Penny and Leonard, thereby ending their awkward struggle.
In the final minutes of the episode, Howard and Bernadette paid Raj for babysitting Halley, but he rejected the money, and decided to skip Comic-Con. Following this, Leonard and Howard decided to stay home to be with their wives. But, Sheldon was still adamant on going, and tried to persuade Amy to join him for five days.