Bangladesh is reportedly preparing to register a formal protest against Myanmar on Wednesday (6 September) for allegedly laying landmines near the border.
The work began about three days ago, government sources in Dhaka who had direct knowledge of the situation told Reuters. They suspect that the objective behind the move could be to prevent the return of Rohingya who have fled the country following months of violence and alleged persecution.
"They are putting the landmines in their territory along the barbed-wire fence" between a series of border pillars, one of the sources said.
Another source added that their forces saw "three to four groups working near the barbed wire fence, putting something into the ground". The person said their informers confirmed that groups were laying land mines near the border, but they could not confirm if the men were in uniforms. The sources, however, confirmed that those laying the mines were not Rohingya insurgents.
Meanwhile, multiple blasts were heard in the past two days near the border and Bangladeshi officials suspect they were landmine explosions.
Manzurul Hassan Khan, a Bangladesh border guard officer, told the news agency that two blasts occurred on Monday (4 September) around 2.25pm local time (BST) and two more were heard on Tuesday on the Myanmar side.
One boy had his left leg blown off in Tuesday's explosion, while another boy suffered minor injuries, Khan said.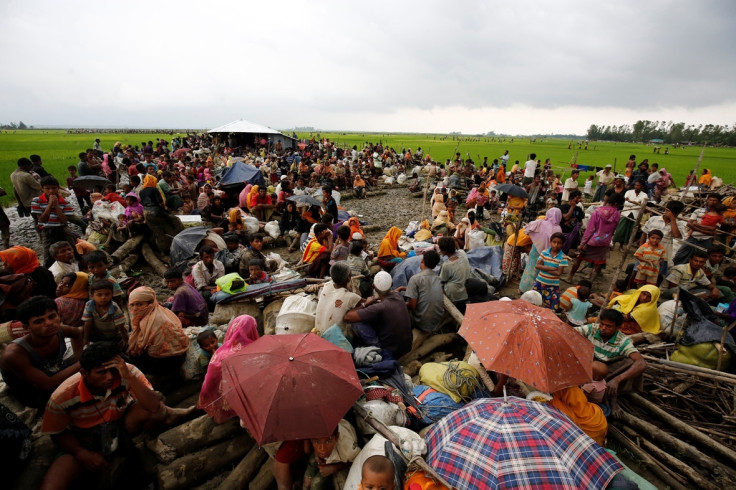 Two refugees also told the news agency that they saw members of the Myanmar army around the explosion site during Monday's blasts. Reuters said it could not independently verify the claims.
Clashes between the Myanmar army and Rohingya insurgents have been ongoing for several months and have intensified in the past two weeks after an attack on 25 August in which the Rohingya insurgents targeted Myanmar security forces.
Reports suggest that more than 125,000 Rohingya Muslims have fled Myanmar in less than two weeks, most of whom have taken refuge in Bangladesh.
Rohingya, mainly concentrated in Rakhine state in Myanmar's western coast, are considered illegal immigrants in the country. However, the minority group claims to be natives of the land.
The United Nations recently urged the Aung San Suu Kyi-led government to put an end to the military crackdown, which many human rights groups termed as "ethnic cleansing".