Thousands upon thousands of Rohingya Muslims – many of them children – continue to flee across the border from Myanmar into Bangladesh, trudging through thick mud in heavy monsoon rain.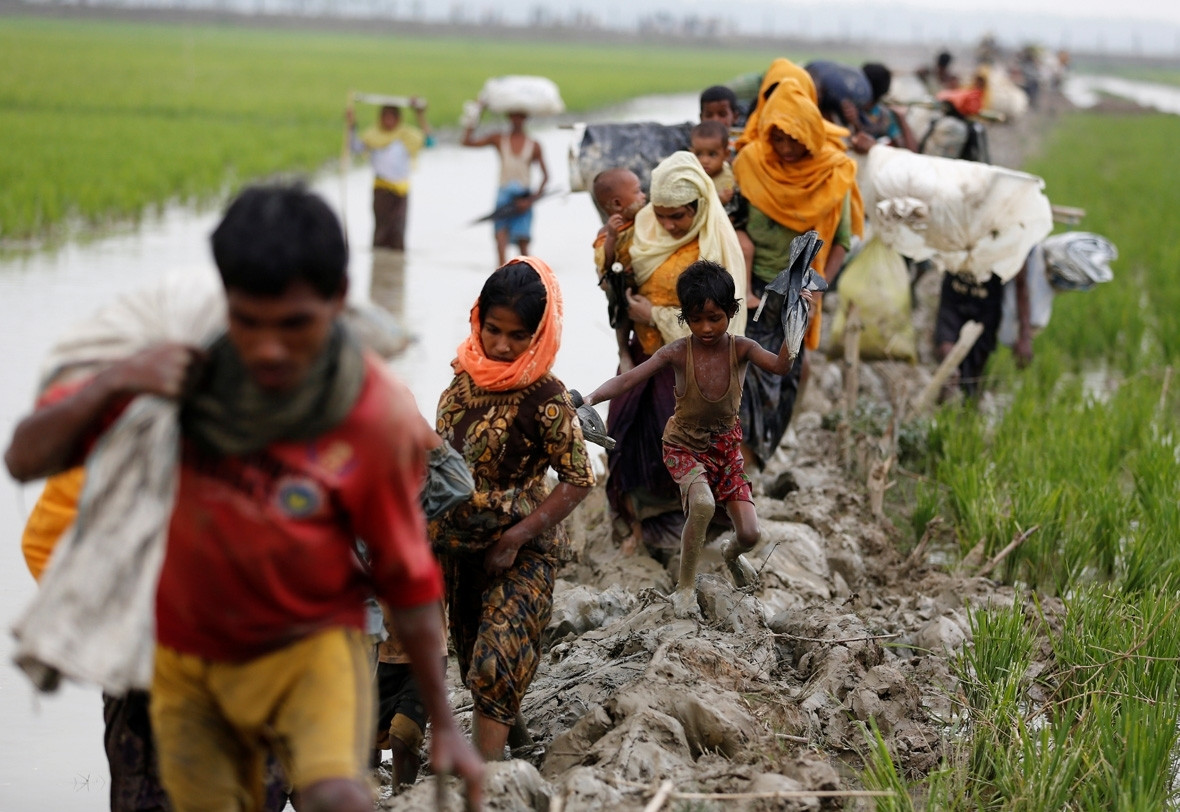 Nearly 90,000 Rohingya have fled to Bangladesh since violence erupted in Myanmar's northwestern Rakhine state in August, following coordinated attacks by Rohingya insurgents on dozens of police posts and an army base. In response, the military unleashed what it called "clearance operations" to root out the insurgents.
Aid workers said that large numbers of refugees required immediate medical attention as they were suffering from respiratory diseases, infection and malnutrition. The existing medical facilities in the border area are insufficient to cope up with the influx and more aid and paramedics are needed.
Among new arrivals, about 16,000 are school-age children and more than 5,000 are under the age of five who need vaccines, aid workers said. The number of unaccompanied children is high and many were "traumatised and hungry", they said.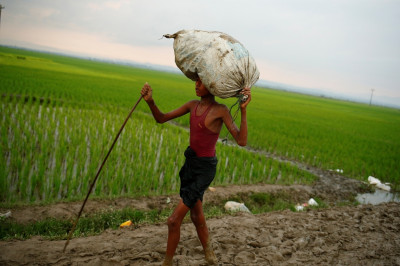 Refugees reaching Bangladesh have described bombs exploding near their homes and Rohingya being burned alive. From an area close to the Bangladeshi border town of Teknaf, soaring flames and smoke could be seen rising from Myanmar across the border.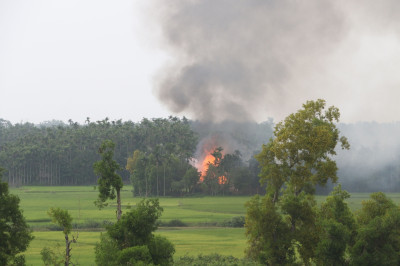 Both Myanmar's security officials and Rohingya insurgents are accusing each other of atrocities. The military has said nearly 400 people, most of them insurgents, have died in clashes. Bangladesh police, meanwhile, say dozens of Rohingya have died attempting to cross the river separating the country from Myanmar. The Myanmar government blames the insurgents for burning their own homes and killing Buddhists in Rakhine.
The army said Rohingya insurgents had set fire to monasteries, images of Buddha as well as schools and houses in the north of Rakhine state.
It posted images of destroyed Buddha statues. In addition to tens of thousands of Rohingya, more than 11,700 "ethnic residents" had been evacuated from northern Rakhine state, the Myanmar government has said, referring to non-Muslims. Myanmar state media has carried stories showing authorities providing food and medical care to the evacuees.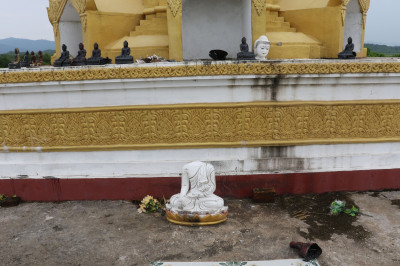 Bangladesh officials have said at least 53 bodies have either washed up on Bangladeshi shores or have been found in the Naf River, which separates the two countries, many with bullet or knife wounds.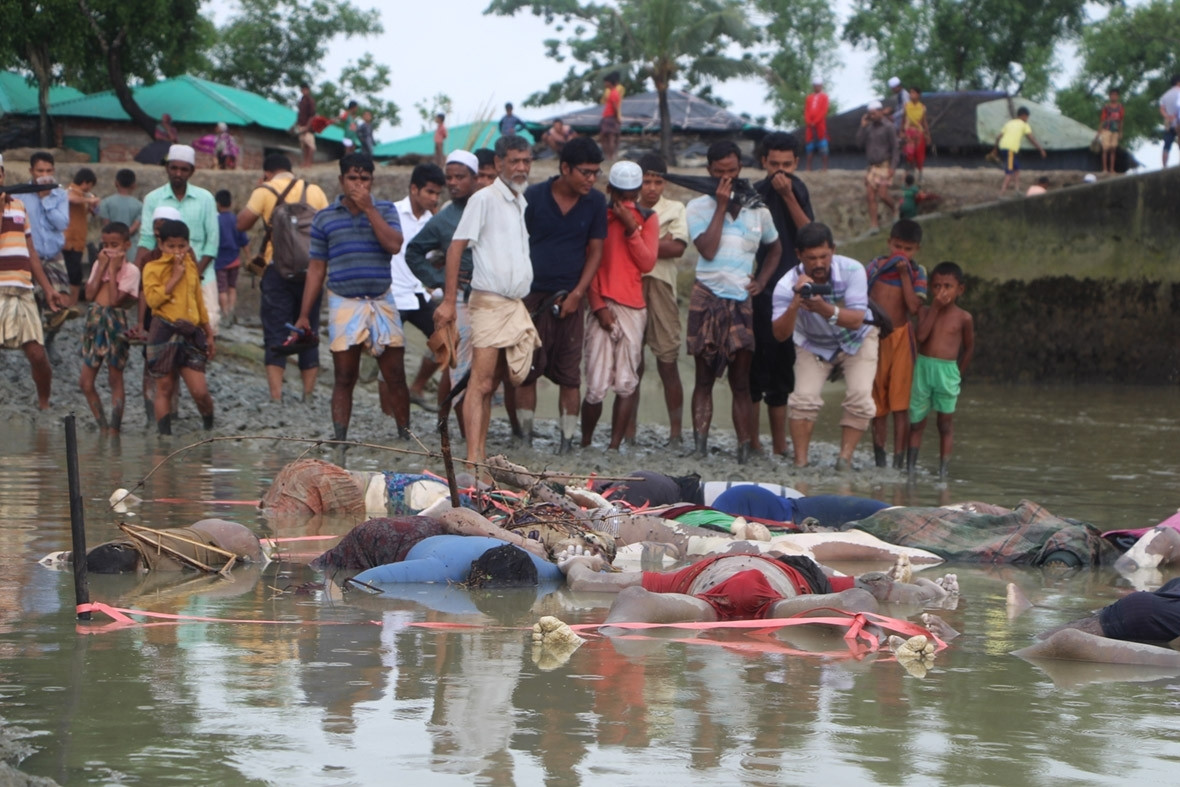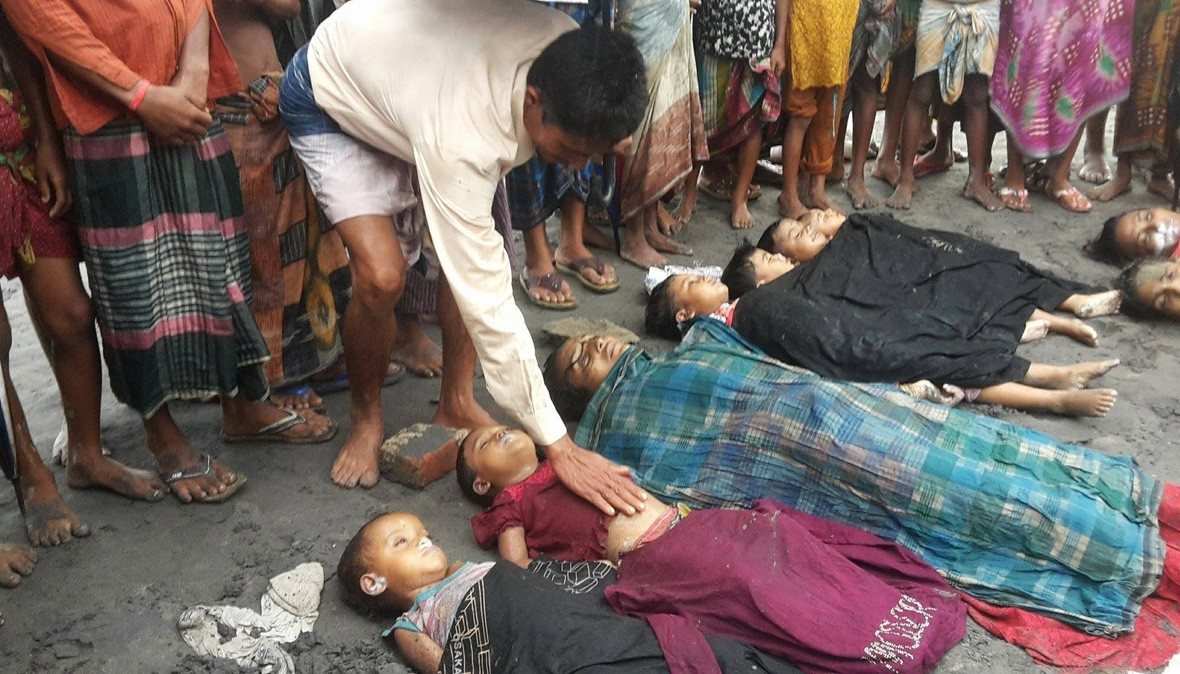 The number of those crossing the border into Bangladesh surpasses the number who escaped Myanmar after a series of much smaller insurgent attacks in October that set off a military operation beset by accusations of serious human rights abuses. The newest estimate, based on calculations by UN workers in the Bangladeshi border district of Cox's Bazar, takes to nearly 150,000 the total number of Rohingya who have sought refuge in Bangladesh since October.
An unofficial camp for Rohingya refugees that sprang up after the October attacks is being dramatically expanded. Md Ali Hossen, deputy commissioner for the Cox's Bazar district, told Reuters that some new arrivals were setting up new camps and the government was not stopping them or taking the camps down on humanitarian grounds.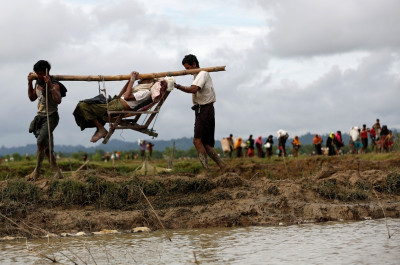 Malala Yousafzai, the youngest winner of the Nobel Peace Prize, called on her fellow laureate Aung San Suu Kyi to condemn the "shameful" treatment of the Rohingya Muslims in Myanmar, saying "the world is waiting" for her to speak out. "Over the last several years, I have repeatedly condemned this tragic and shameful treatment," Malala said in a statement on Twitter. "I am still waiting for my fellow Nobel Laureate Aung San Suu Kyi to do the same. "The world is waiting and the Rohingya Muslims are waiting."
Pakistan, which has a large number of Rohingya living there, on Sunday urged "authorities in Myanmar to investigate reports of massacre, hold those involved accountable and take necessary measures to protect the rights of Rohingya Muslims".
Activists from Indonesia, home to the world's biggest Muslim population, have called on the Nobel committee to withdraw Suu Kyi's peace prize during protests outside the Myanmar embassy in Jakarta, state news agency Antara reported.
Turkish President Tayyip Erdogan, who said that violence against Myanmar's Muslims amounted to genocide, last week called Bangladesh's President Abdul Hamid to offer help in sheltering the Rohingya.
The UN says the Rohingya are one of the most persecuted groups in the world. Neither Bangladesh nor Myanmar recognises them as citizens. In Myanmar, even the name Rohingya is taboo. Officials refer to the group as "Bengalis" and insist they are illegal immigrants from Bangladesh, even though most have lived in the country for generations.