Modigliani's Reclining Nude fetches second-highest record price of $170m at auction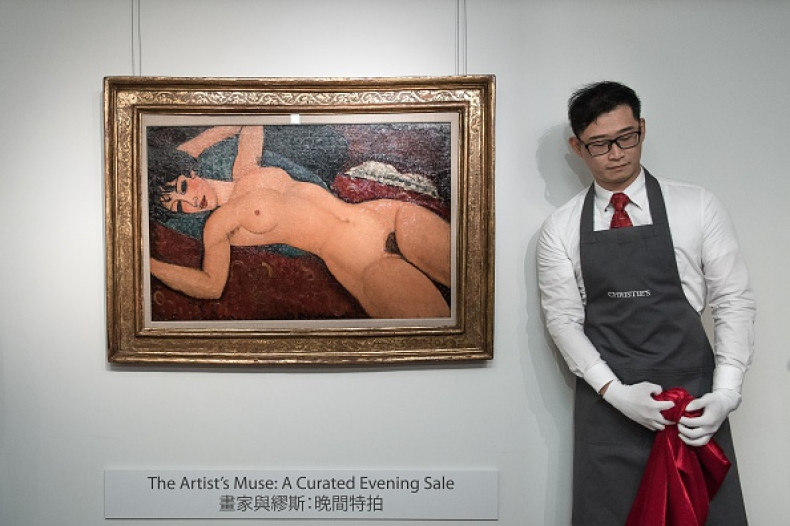 A painting by Amedeo Modigliani has fetched the second-highest price for any artwork at an auction. The painting Nu Couché or (Reclining Nude), auctioned by Christie's in New York on 9 November, was sold for $170.4m (£113m). The previous auction record for a Modigliani painting was $71m.
Modigliani's Nu Couché painting depicts a dark-haired woman lying naked on a red couch with a blue pillow. It now has become the tenth work of art to sell for more than $100 million at an auction. According to Christie's, the painting was purchased by a buyer who wished to remain anonymous. However, The New York Times has reported that the painting was bought by a Chinese person over the phone.
"This painting leaps off the page as the most vibrant, sexual, lyrical of the catalog raisonee," Ana Maria Celis, a Christie's specialist in post-war and contemporary art told the New York Times.
Modigliani's 1917-18 Nu Couché painting, which saw the highest pre-sale estimate of any lot at the auction, was sold under Christie's "The Artist's Muse" special auction for paintings and sculptures from the 1860s to the 2000s. The daughter of an Italian collector Gianni Mattioli, Laura Mattioli Rossi, who owned the Nu Couché, was guaranteed at least a $100m as minimum price for the artwork.
The pop work of Roy Lichtenstein, "Nurse", from 1964, surpassed its $80m price estimate, selling for $95.3m, creating a new record of the artist's work. While, the highest price for any artwork was paid for Paul Gauguin's Nafea Faa Ipoipo (When Will You Marry?). Gauguin's artwork fetched $300m in February 2015.
Christie's is expecting to sell at least $1bn worth of art, over a series of sales this week.