Dutch police have arrested a man in Wanneperveen for trying to sell a fake version of a painting by Vincent van Gogh for €15m (£10.8m, $17m). He was believed to be trying to offload a fake version of a preliminary version of the painting De Oogst (the Harvest) which the 19th-century artist made before working on the final piece.
The 56-year-old carried a letter from the Van Gogh Museum in Amsterdam, supposedly confirming the authenticity of the painting, but the documents turned out to be fake, a police press officer said.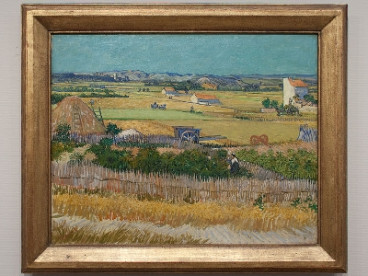 He came to the police's attention in June after a prospective buyer informed them he believed the artwork was a fake and people from all over the world were trying to contact the seller to discuss a price.
After it was confirmed the real preliminary painting was locked away in a vault in Hilversum, the police tracked down the man and the Van Gogh Museum confirmed it had not given out any signed papers to him.
The man is being held on suspicion of defrauding official documents and attempting to deceive.
In 2002, art thieves stole two original Van Gogh artworks worth a total of €30m. The paintings have never been found and the men were sentenced to four and a half year in Dutch prison.