A Manchester United shirt lays in the middle of floral tributes neatly piled against a tree on the Newington Estate in Elephant & Castle. Extinguished candles that spelled "Mo" are still at the scene where 100 mourners marched to pay respects to a fallen friend.
It was here, in the shadow of the Strata tower block - once named London's ugliest building - that 16-year old schoolboy Mohammed Dura-Ray was hideously killed. The aspiring student bled to death after rival gangs are thought to have clashed near his home in what police described as a "large disturbance" on Monday (14 September).
He was stabbed multiple times during the violence in what family members have said is a case of mistaken identity. Police do not believe Dura-Ray was in a gang. Seven males - aged between 16 and 54 - were arrested in connection with the incident, five of whom have been bailed while two 16-year-olds will face no further action.
The tragedy shook a neighbourhood that thought it was free of the knife crime that has plagued London. Instances of people being injured by knives increased by 22% in the last year and violence against people in Southwark is up 20% in the 12 months to July.
One hooded youth from the same Aylesbury Estate as Dura-Ray told IBTimes UK that teenagers carried knives for protection. The 21-year-old said he knew people who carried a knife but denied he had ever done so. "If everyone else carries a knife you would be stupid not to. It's for protection. Most people never want to stab anyone." Then why carry one in the first place? "It's the mental thing, knowing it's there, just in case."
Detective Chief Inspector Graeme Gwyn of the Homicide and Major Crime Command leads the investigation in Dura-Ray's death. He said:
"I am appealing directly to the local community to come forward and help bring whoever is responsible for this horrific murder to justice. While we continue to establish the motive behind his murder, there is nothing to suggest that Mohamed was in a gang."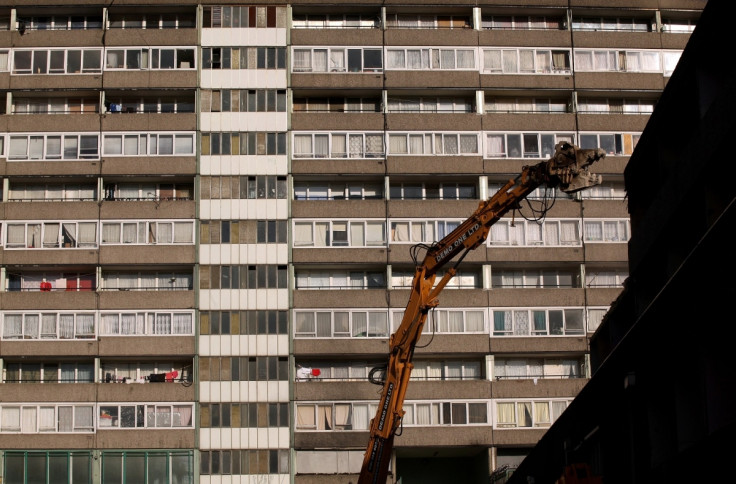 Orice, 61, has lived on the Newington Estate since 1996. He remembers a stabbing happening about five or six years ago but says things are a lot quieter these days. He points to a children's park where Dura-Ray received the fatal blows.
"Teenagers sometimes kick the ball against the wall over there until late at night but there isn't any trouble. In fact, it's quiet. There are no teenage gangs here on the estate. No. They must be coming from somewhere else. Where are their parents? The parents are to blame. Why don't they know where their children are? Why don't they know if they have a knife? I used to be in a gang but when I was 17 I enlisted in the army because there was nothing to do. That is what the government should do. Put these boys in the army."
Roy Smith, 71, has lived on the estate for 30 years. He agrees any trouble in the neighbourhood comes from elsewhere. "What are they doing coming here? Why can't they stay where they are? We read about knives every day in the paper, it is obviously a major problem."