The Myanmar government on Saturday (2 September) revealed that more than 2,600 houses belonging to Rohingya Muslims in Rakhine State have been burned down over the past two weeks.
The government reportedly blamed Arakan Rohingya Salvation Army (Arsa) for the burning of the homes, but the fleeing minorities accuse the Myanmar army of launching attacks on them to force them out of the country.
Rohingya Muslims, who claim to be natives of the country, are considered illegal immigrants by the authorities. In recent months, the Aung San Suu Kyi-led Myanmar government has been accused of military action against the religious minority, with many terming it as "ethnic cleansing".
The government has been denying the allegations, putting the blame on the armed group, Arsa, which claimed responsibility for coordinated attacks on security posts a week ago. These attacks reportedly prompted clashes and a massive anti-Rohingya offensive in the country, Reuters wrote.
Meanwhile, the government said on Saturday that nearly 400 people have lost their lives in the recent clashes, with more than 11,700 "ethnic residents" evacuated from the area. It was referring to the non-Muslim population of northern Rakhine as ethnic residents.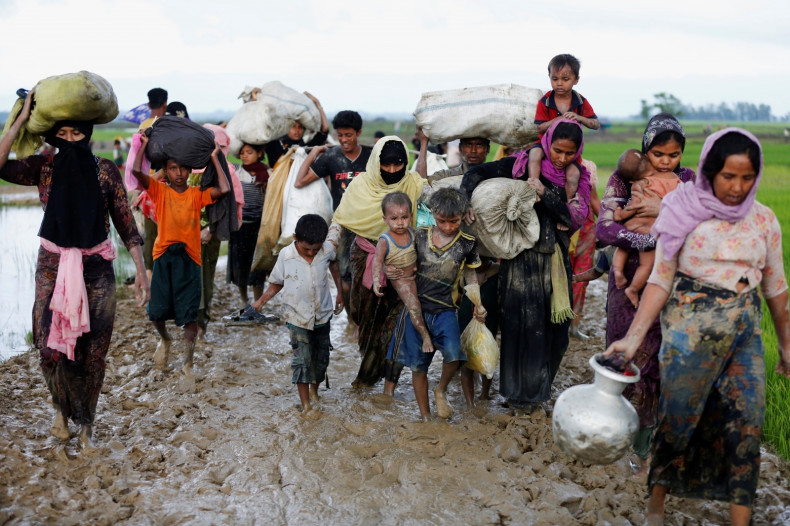 "A total of 2,625 houses from Kotankauk, Myinlut and Kyikanpyin villages and two wards in Maungtaw were burned down by the ARSA extremist terrorists," Myanmar's state-run Global New Light stated in a report on Saturday.
However, New York-based Human Rights Watch, said that satellite imagery and accounts from Rohingyas fleeing to Bangladesh suggest Myanmar security forces deliberately set the houses on fire.
"New satellite imagery shows the total destruction of a Muslim village, and prompts serious concerns that the level of devastation in northern Rakhine state may be far worse than originally thought," the group's deputy Asia director, Phil Robertson, told Reuters.
The United Nations refugee agency estimated that about 58,600 Rohingya have already fled into neighbouring Bangladesh following an escalation in violence.
Jalal Ahmed, 60, a Myanmar resident who fled to Bangladesh and arrived there on Friday with a group of about 3,000 other people after walking from Kyikanpyin for almost a week, told the news agency that their people were being deliberately driven out of Myanmar.
"The military came with 200 people to the village and started fires... All the houses in my village are already destroyed. If we go back there and the army sees us, they will shoot," he said.
Reuters noted that it could not independently verify the man's statement as access for independent journalists to northern Rakhine is restricted since the time security forces locked down the area a few weeks ago.