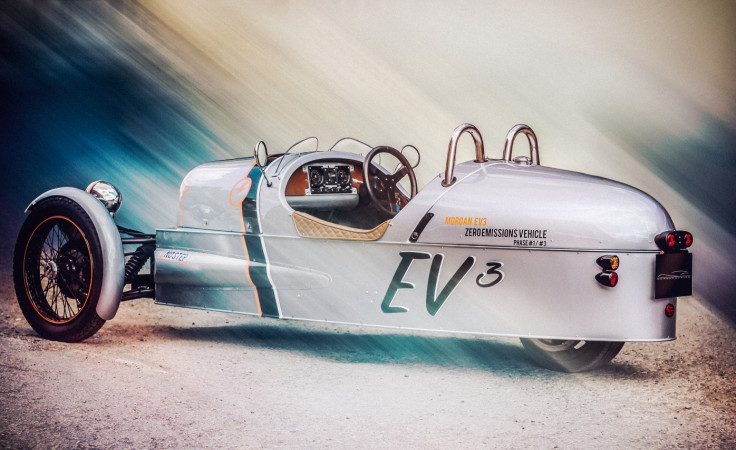 British sports car company Morgan has announced its second all-electric vehicle, the EV3, which is based on the firm's quirky three-wheeler. It will go on sale in 2016.
Revealed online ahead of its global public debut at the Goodwood Festival of Speed on 27 June, the EV3 follows on from the Plus E and replaces the regular three-wheeler's petrol engine with a 75kW electric motor.
Ditching the regular power plant means the car is 100kg lighter than its 550kg naturally aspirated relative – despite the weight of its battery pack – and Morgan claims the car has a range of 150 miles.
This is some way behind the 300-mile Tesla Model S, but ahead of most other electric cars that have been converted from internal combustion, such as the Ford Focus Electric, which manages just 100 miles. The motor drives a single rear wheel, just as the petrol engine does in the regular version.
The EV3 will be built to order, so the price will be high and the production run will be low. Morgan says the prototype pictured above and to be shown off at Goodwood is "currently undertaking a full testing and development programme" and is "expected to go into production towards the end of 2016".
Based in Malvern, Worcestershire, Morgan is the last remaining British car maker to be privately owned. As such, they are perhaps the last you would expect to be producing all-electric vehicles, but given the instant torque of electric motors, they are an attractive proposition for lightweight sports car manufacturers.
The Morgan EV3 will be shown off at Goodwood as part of the Niche Vehicle Network display, located at stand seven on the Premier row.