Thousands of people have demonstrated in Morocco calling for the release of a well-known activist. People took to the streets of the northern city of Al-Hoceima after Nasser Zefzafi was arrested and charged with threatening national security on Monday (29 May).
Morocco has been gripped by protests since last October, following the death of a fish vendor, 31-year-old Mouhcine Fikri, who was crushed to death after jumping in the back of a garbage truck to retrieve fish that was confiscated by local authorities.
The incident triggered demonstrations across the country, with some claiming the unrest was the result of long-lasting grievances among the Moroccan population, who are calling for changes.
Zefzafi is seen as one of the leaders behind the protests against unemployment in the country and perceived government corruption. His arrest was ordered after he allegedly interrupted a preacher at a mosque and called for more protests on Friday (26 May).
Zefzafi was arrested, along with another 40 people, after three days on the run and was charged with obstructing "in the company of a group of individuals, freedom of worship" at the mosque, news agency AFP reported. He was then transferred to Casablanca.
Following the arrest, people took to the streets after Iftar (the breaking of the fast observed by Msulims during Ramadan) and chanted "the state is corrupt", "end militarisation" and "we are all Zefzafi".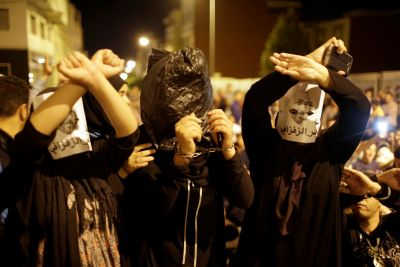 Anti-riot police tried to disperse demonstrators, but pulled back following a tense but non-violent standoff with protesters.
A similar demonstration took place in the town of Imzouren as well as Morocco's capital Rabat and Casablanca.
Al-Hoceima is in the Rif region, which has experienced tensions between locals and central authorities. It was also the epicente of the 2011 wave of anti-government protests later dubbed Arab Spring. Started in Tunisia, the wave of pro-democracy protests later spread to other countries, including Egypt and Morocco.