Two Russian artists have been arrested after throwing holy water onto the Lenin Mausoleum in Moscow's iconic Red Square, yelling "Get up and leave!".
A video of the performance of Oleg Basov and Eugene Avilov, from the Blue Rider (or Blue Horse Rider) art group, showed the pair breaching security barriers and sprinkling two 5-litre bottles on the walls of the mausoleum, before being taken away by police. The men face up to 15 days in jail for disorderly conduct.
The performance, called The Exorcist. Desecration of the Mausoleum, took place on 19 January, the day when the Orthodox church celebrates Epiphany. The two collected the water - which is blessed and believed to have healing power - at the Church during the festivity.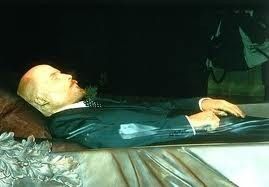 They told media their action was an attempt to get rid of the Soviet past, which they think is percolating through Vladimir Putin's Russia.
The Lenin Mausoleum houses the embalmed body of Vladimir Lenin, the father of Soviet communism and the first leader of the USSR, that has been on public display there since shortly after his death in 1924.
Formed in September 2013 in St. Petersburg, Blue Rider has engaged in other controversial art stunts such as the Eating of the Ruble performance in Moscow. During that stunt, Basov ate 100 ruble banknotes and washed them down with a soda, in reference to the currency freefall of the last months.