Pope Francis said he felt "ashamed" after knowing that the US military's largest non-nuclear explosive ever has been associated with the word "mother".
The pontiff said on Saturday, 6 May, that the word "mother" shouldn't be used to refer a deadly weapon as "a mother gives life and this one gives death, and we call this device a mother. What is happening?" he asked while addressing a group of students at the Vatican.
The 80-year-old was talking about the US military's a GBU-43/B Massive Ordnance Air Blast (MOAB), colloquially known in the military circles as the "mother of all bombs". The 9,800kg (21,600lb) powerful explosive was used in April to target a tunnel complex used by the Isis insurgents, who have been gaining a foothold in Afghanistan in the last few years.
The blast occurred in the Afghanistan's Nangarhar province's Achin district after the 30ft GPS-guided massive bomb was dropped from an MC-130 aircraft, killing over 90 Isis militants.
The explosive, which was primarily built to demolish underground targets, wiped out a large cache of weapons when it struck a network of caves used by Isis. The weapon was built during the Iraq war and tested in 2003 but never put into combat use.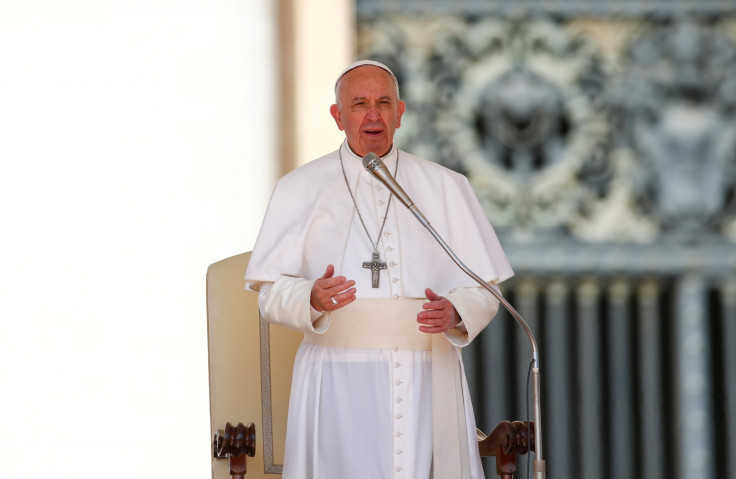 The Pope's comments came ahead of his meeting with the US President Donald Trump in later May. The duo is set to meet on 24 May in spite of their difference in views on several issues, like immigration, refugees and climate change.
According to Reuters, Trump while coming back from the Middle East will take a halt in Rome before going to Brussels for a NATO summit and then to Sicily for a meeting of the Group of Seven (G7) countries. G7 is bloc of industrialized democracies – the US, Canada, France, Germany, Italy, Japan, and the UK.
It is said that Trump will use the trip to rally support against Isis and lobby for Middle East peace.