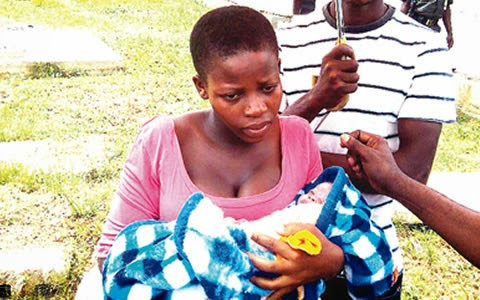 A Nigerian woman has been arrested after she allegedly tried to sell her new-born baby.
Imaobong Udoh is accused of handing over her three-day-old daughter to a wealthy couple in the Akwa Ibom State in exchange for N260000 (£950) on 3 March.
According to news website Punch, Udoh was arrested along with Regina James and her husband Mfon James, after it emerged that they had bought the child.
Comfort Henry, who delivered the infant, and homeopathic doctor Emmanuel Okon, who arranged the sale, were also taken into police custody.
The Jameses allegedly paid N150,000 to Udoh and another N110,000 to Okon, who acted as the go-between for the illegal transaction.
"Mr Emmanuel Etim Okon, was the one that arranged the infamous deal and personally conveyed the baby from the point of delivery at Nna-Enin in Uruan Local Government Area to the buyers at No. 37 Church Road, Uyo," police commissioner Umar Gwadebe said in a statement.
Mfon James has since denied being involved in the illicit purchase, claiming that he believed that his wife was pregnant.
"My wife, Regina, told me she was pregnant and I gave her money for ante-natal. One day, she told me she was in labour and later informed me that she had been delivered of a baby girl," he said.
"I did not know she bought the baby since she has given birth to four children, though three died."
The co-accused now face child theft charges and a prison sentence.