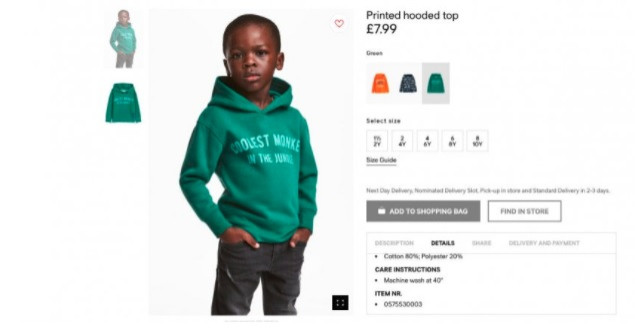 The mother of a young black model who modelled a "coolest monkey in the jungle" hoodie for H&M has apparently told people to "get over" their outrage.
Screenshots of Facebook comments from Terry Mango, who says she is the boy's mother, reveal that she was present at the photoshoot for the now infamous £7.99 hoodie and that she appeared to tell people who thought it was racist to "stop crying wolf".
Mango, who comes from Nairobi and now lives in Stockholm, wrote: "[I] am the mum, and this is one of hundreds of outfits my son has modelled. Stop crying wolf all the time, [it's] an unnecessary issue here. Get over it."
"That's my son, [I've] been to all [his] photoshoots and this was not an exception. Everyone is entitled to their opinion about this."
Clarifying her stance on the issue, she said: "I really don't understand but not [because I'm] choosing not to but because it's not my way of thinking. Sorry."
Another screenshot showed that she said: "If I bought that jumper and put it on him and posted it on my pages, would that make me racist??"
The comments came after H&M apologised for the image and took it down from its website. In a statement on Wednesday (10 January), the company said: "We have got this wrong and we are deeply sorry. We have a responsibility to be aware of and attuned to all racial and cultural sensitivities – and we have not lived up to this responsibility this time.
"This incident is accidental in nature, but this doesn't mean we don't take it extremely seriously or understand the upset and discomfort it has caused. We have taken down the image and we have removed the garment. We will now be doing everything we possibly can to prevent this from happening again in future."
Singer The Weeknd cut his ties with H&M after saying he was "shocked and embarrassed" by the photo, while US rapper Pusha T, Diddy, NBA star LeBron James and Manchester United footballer Romelu Lukaku were among others expressing outrage at the image.
Some of them shared photoshopped images of the boy's hoodie with slogans like "black is beautiful" and "king of the world" instead.