Fashion retailer H&M has been branded "racist" after casting a black boy to model a hoodie emblazoned with the phrase "coolest monkey in the jungle".
Internet users demanded answers after the picture showing the child in the green top appeared on the brand's UK website. Many considered it inappropriate and offensive because comparing black people to monkeys has historically been a way to place them lower on the evolutionary ladder and depict them as almost sub-human.
Other hoodies in the range include an orange one with a Tiger on the front and the words "Mangrove Jungle official survival expert" as well as a navy blue style with cartoon animals.
While the hoodie, which is made for children aged 18 months to 10 years, is still available to purchase online, the accompanying image of the boy has been removed in the wake of the uproar.
A spokesman for H&M told IBTimes UK: "This image has now been removed from all H&M channels and we apologise to anyone this may have offended."
But the outrage has continued on social media. Many commentators believe casting the black boy in the shoot wearing the "monkey" hoodie was deliberate.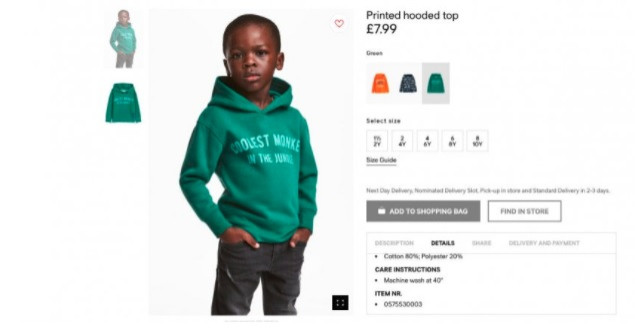 "Whose idea was it at @hm to have this little sweet black boy wear a jumper that says 'coolest monkey in the jungle'? I mean. What," one person queried.
Another said: "More casual racism from H&M. This is nothing new when it comes to these clothing companies like Abercrombie and Tommy Hilfilger who have a long history of using their products to convey racist messages."
Others admitted there should have been more awareness of how the image would have been perceived.
"@hm this is disgusting & irresponsible. You know the history of racist using the term "monkey" to demean people of African descent... and you put this on your website! "Coolest Monkey In the Jungle" #SMH."