Mother Teresa, the nun who rose to fame for founding hospices for Kolkata's poor, was declared a saint of the Catholic Church on Sunday (4 September) by Pope Francis in a ceremony at the Vatican, 19 years after the nun's death.
Pilgrims flocked in the thousands to St Peter's Square, many arriving before dawn, to witness the historic mass, where the nun who dedicated her life to caring for the world's poor and destitute was canonised.
Speaking in Latin from the steps of St Peter's Basilica – where a giant tapestry depicting the Albanian nun was hung from the facade – the pontiff declared "Blessed Teresa of Calcutta to be a saint and we enrol her among the saints, decreeing that she is to be venerated as such by the whole Church".
Applause rang out from the crowds of nuns, priests, volunteers, pilgrims and tourists as Mother Teresa, known as the "Saint of the Gutters" during her life, joined the Catholic Church's 10,000 saints.
Mother Teresa founded the Missionaries of Charity in 1950 and won a Nobel Peace Prize for her work in 1979. The order now has 4,500 nuns and runs more than 750 care homes and hospices in 139 countries around the world.
Security fears in the wake of Islamic State (Isis) attacks in Europe meant only 100,000 tickets were issued for the mass, compared to the 300,000 in attendance for Mother Teresa's beatification in 2003. A 3,000-strong security presence also secured the area and the airspace above was closed.
In India, a special ceremony was also conducted at the Missionaries of Charity, the order she founded in Kolkata. Three months of commemorations will follow in the city, including book launches, exhibitions, a stadium mass and last week's installation of a life-size bronze statue of the nun.
Miracle healer
Saint Teresa's canonisation follows claims she was responsible for two miraculous cures of the sick following her death in 1997.
In 2002, the Vatican ruled that an Indian woman's stomach tumour had been healed after her prayers to Mother Teresa were answered.
In 2015, a decree was approved by Pope Francis, recognising a second miracle to her – the healing of a Brazilian man who recovered from a brain infection in 2008.
During the canonisation ceremony, pontiff then went on to deliver a homily in which he praised the virtues of Mother Teresa as an example to volunteers and charity workers around the world.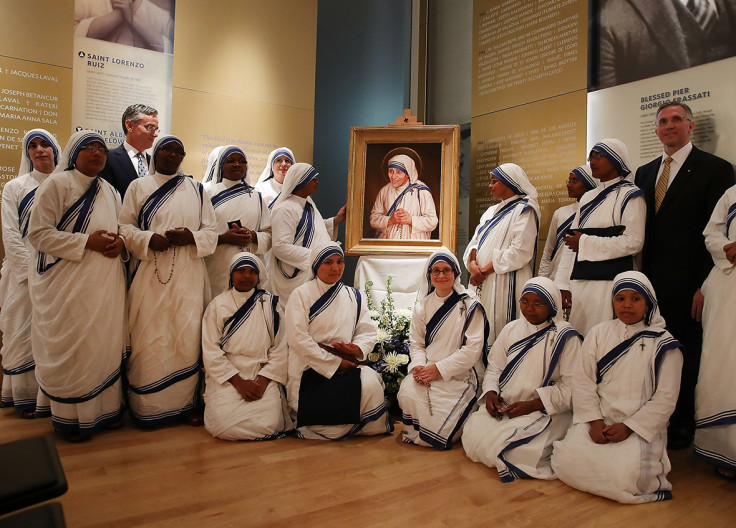 "Mother Teresa, in all aspects of her life, was a generous dispenser of divine mercy, making herself available for everyone through her welcome and defence of human life, those unborn and those abandoned and discarded," the Pope said.
"She bowed down before those who were spent, left to die on the side of the road, seeing in them their God-given dignity; she made her voice heard before the powers of this world, so that they might recognise their guilt for the crime of poverty they created."
However, the ceremony has also reignited fresh criticism of Saint Teresa's Kolkata order which has been plagued by rumours of corruption, poor hygiene and exploitation of the destitute for years. The order has also been accused of hoarding millions of dollars in donations given to it.
Critics have accused the order of failing to properly treat people whose lives may have been saved with proper medical attention, in a bid to convert those suffering to Christianity.
Pope's holy year
Saint Teresa's canonisation is particularly symbolic during Pope Francis's Holy Year of Mercy which runs from 8 December 2015 to 20 November 2016.
According to CatholicNews.org.uk, the Year of Mercy offers Catholics "the opportunity to reflect on how we might better radiate and reflect the tender love of God in our world and to seek to draw others into experiencing that love and mercy".
In a recent interview with Italian magazine Credere, the Pope said: "We are used to bad news, cruel news, and to even bigger atrocities, which offend the name and life of God. Ending those tragedies requires a spirit of mercy."