A US mother who left her four-year-old son and two-year-old daughter to wallow in bedrooms covered in dog faeces and human waste has been jailed.
Police found Samantha Grenier would also strap her young boy to his mattress with a harness and leave her girl in a crib with only a laptop for company when she went to work.
The 27-year-old, from Manchester, New Hampshire, pleaded guilty to various child neglect charges and was jailed for 15 years on Tuesday (3 October), WMUR 9 reported.
The court heard how police were called to Grenier's Quirin Street apartment in November of last year to check on the welfare of her husband James.
A strong stench led them instead to make a horrific discovery inside the property.
Officers said human and dog faeces littered the fly-infested "hell hole" apartment, while dirty nappies and other rubbish made it near-impossible not to step on something.
They were also left shocked upon entering the four-year-old boy's bedroom, finding him lying in a horrific state on a mattress.
"They removed the blanket and found that [the son] was strapped to the bed using a harness," prosecutor Sarah Warecki said.
The two-year-old girl was then found in a separate bedroom, naked and shivering in a crib with only a laptop computer for company.
Both bedrooms were covered in human faeces and urine, prosecutors said, with the dog also intentionally brought into the rooms to relieve itself.
"Although the children's bedrooms were filthy with dirt and human and animal waste, James and Samantha's bedroom and living room were absent of this," according to an affidavit for Samantha Grenier's arrest.
Grenier later admitted she had been strapping her son to the mattress since 2014 so she could go out to work.
Her daughter, meanwhile, would be left in her crib to watch the 2013 animated Disney film, Frozen, on repeat on a laptop.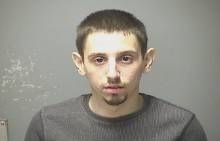 "Samantha stated that she and James took better care of their dog than they did their children," Det. Nicholas Georgoulis wrote in the affidavit.
"She did not want to report this behavior because she did not want to lose her kids, despite admitting that it would be in their best interest to live somewhere else."
Grenier pleaded with the judge for leniency during her sentencing, saying she had been unable to cope.
"I was stressed and overwhelmed," she said. "I know I need help, and I really do want the help. I want to be a better daughter, wife, mother and friend. Please, your honor, help me get the help that I need."
Grenier's father, Dwayne Erickson, said her daughter "deserves to stay in jail as long as she can".
Judge Gillian Abramson sentenced Grenier to 15 years in prison.
"You have lied about everything," Abramson told her. "I don't believe you are the victim here. Your children are the victims, and I don't believe you understand that even as you stand here today."
Her husband, James Grenier, received the same sentence for his role in the abuse.
The children are currently in foster car. Their mother is banned from contacting them for the duration of her sentence.