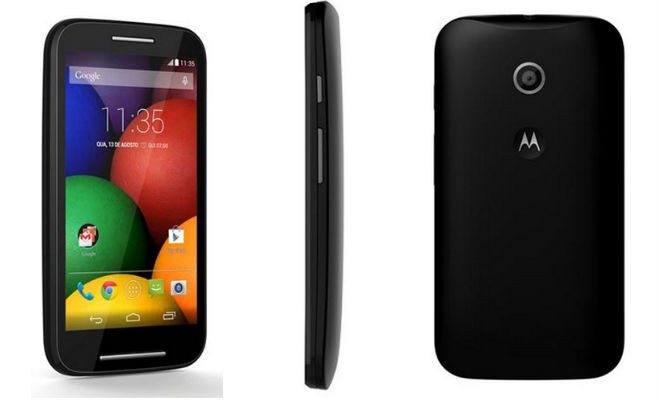 Motorola's popular Moto E, released in 2014, now looks set to get an advanced successor, which is expected to retain its low-cost legacy.
According to a Greek website Tech Maniacs report, the second-gen Motorola Moto E will be launched soon, with technical specifications a notch above the Moto E smartphone, the portal says.
The report claims that the second-gen Moto E will be launched with Google's Android 5.0 (Lollipop) straight out of the box.
As of now, only Motorola's Nexus 6 smartphone and Google's Nexus 9 tablet run the Android 5.0 out of the box.
Motorola recently listed several of its older models as officially being eligible to receive the Android 5.0 OS upgrade. Co-incidentally, the original Moto E is one among the smartphones that is set to receive the Android 5.0 update.
The USP of the current Moto E is its budget pricing and it is available in the UK for £92 ($144, €117). The device offers users a 4.3in screen, Android 4.4.2 KitKat (upgradeable to Android 4.4.4, then to Android 5.0 Lollipop), a dual-core Qualcomm Snapdragon 200 processor and a 5MP primary camera.
The handset also comes with a 1980 mAh fixed Li-Ion battery.
What to expect in the second-gen Moto E
According to the Tech Maniacs report, the next-gen Moto E could have the following specifications:
4.5in display, having resolutions of 960x540 pixels.
Android 5.0 Lollipop operating platform; straight out of the box.
Qualcomm Snapdragon 400 processor (configurations are yet to surface).
1GB RAM.
5MP rear camera.
4G LTE, Bluetooth 4.0, Wi-Fi and microUSB connectivity.
The above tech-specs are a level higher than the original Moto E's technical configuration, but the differentiating factor would be the presence of the Android 5.0 by default.