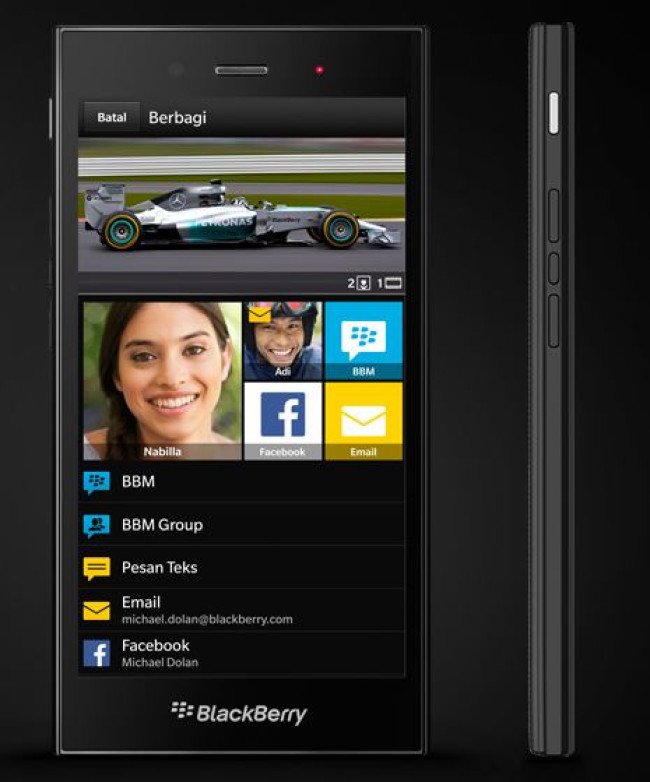 After reaping enormous success with the Moto G, Motorola launched the Moto E in London a few days ago. The handset is cheaper than the original Moto G and will appeal to consumers who are look for an extremely affordable phone. And in Indonesia, Blackberry has introduced its new Blackberry Z3 smartphone. We compare the three handsets to understand how they fare against each other.
Display
The Moto G uses a 720 x 1280 pixels, 4.5 inch IPS LCD display that has a pixel density of 326 ppi. It is easily one of the best displays on a budget handset category. It also has enough quality to challenge many mid-range competitors.
The Moto E packs a decent 4.3 inch display with a 540 x 960 pixel resolution and a pixel density of 256 ppi. Given its price range, the display is very good, allowing for a good visual experience.
The Blackberry uses a 5-inch qHD display which has a resolution of 960x540p. It has a pixel density of 220 ppi.
Design
Both of Motorola's handsets use a similar design, with the Moto G being slightly larger by virtue of its larger display. They both have a solid build, but are far from luxurious. Both handsets have changeable back covers. It is worth noting that both handsets feature a 'water-nano coating,' which provides a measure of water resistance, making them somewhat weather proof.
The Blackberry Z3 has a sleeker body and a high quality finish when compared to the Motorola handsets in question here. It has a textured back, which according to the company, is easy to grip and hold.
Hardware
The Moto E packs a 1.2GHz dual-core Qualcomm Snapdragon 200, which is inferior to the 1.2GHz quad-core Qualcomm Snapdragon 400 on the Moto G. Both handsets feature 1 GB of RAM.
The Blackberry Z3 also uses a Qualcomm chipset, the Snapdragon 400, which has a Dual-core 1.2 GHz Krait 200 processor. It uses 1.5 GB of RAM.
Camera
Both of Motorola's handsets have camera units in the rear with 5-megapixel sensors. While the Moto G offers a 1.3 megapixel front camera, the Moto E has no front camera at all. Also, the Moto E's rear camera has no flash, unlike the Moto G. The Blackberry also offers a 5 megapixel camera, with a 1.1 megapixel camera up front.
Storage
The Moto E offers 4GB of internal storage space, while the Moto G comes with 8GB and 16GB options. The Z3 offers 8GB of internal storage. The Z3 and the Moto E come with microSD slots, while the Moto G offers no options for memory expansion.
Battery
The Moto G has a non-removable Li-Ion 2070 mAh battery, while the Moto E has a 1980mAh battery. The Z3 bests them both with a larger non-removable Li-Ion 2500 mAh battery, which will definitely result in better battery life.
Price
The Moto E comes at a shocking £69 ($129) only, while the Moto G is priced at £89. The Blackberry Z3 is priced at £113 in Indonesia. There is no information if it will ever hit British shores in the future, since the handset made specifically for Indonesia.
Overall
If you're looking for a handset that offers agile performance for everyday use, along with an solid display, then the Moto G is a great handset to choose.
However, if you are on a tighter budget and you don't mind slower processing and the lack of a camera dedicated for selfies, the Moto E makes for a good buy.
The Blackberry will appeal mainly to Blackberry fans who value the Blackberry 10 OS's advanced security features. Other consumers might prefer the Moto G over it since it has a better display and superior performance specs on offer.