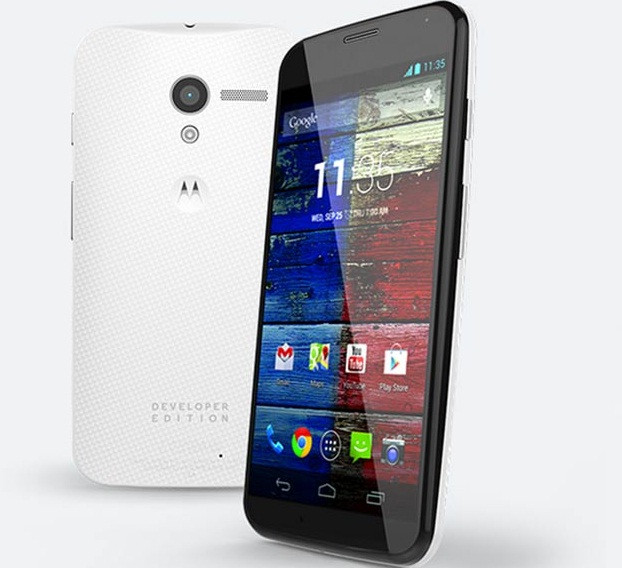 Motorola's next flagship smartphone, along with a few more new devices, has been leaked online.
Moto X+1 with Backplate Options
Last month, it was rumoured that the Moto X+1 will come with as many as 25 backplate options under five main categories -- Cool, Neutral, Warm, Wood and Leather.
Mobiltelefon.tu has now confirmed that as expected earlier, the Moto X+1 will have 25 backplate options, which include cool hues like navy, turquoise, olive, royal blue, and warm colours such as red, orange, lemon lime, violet, crimson, purple, dark teal, raspberry and cabernet.
It will also have neutral colours such as purple, smoke, black, slate and chalk. Additionally, there will be leather backplates of black, grey, red, blue and wooden backplates of teak, rosewood, bamboo and Ebony.
The accent colours for the power and lock key will not change and it will feature the current 10 options, which include blue, silver, yellow, red, ultraviolet, black, orange, gold, green and purple.
In terms of storage, the Moot X+1 will reportedly come in 16GB and 32GB storage. A 64GB variant will be reportedly available later.
New Motorola Devices Make Appearance at Company Website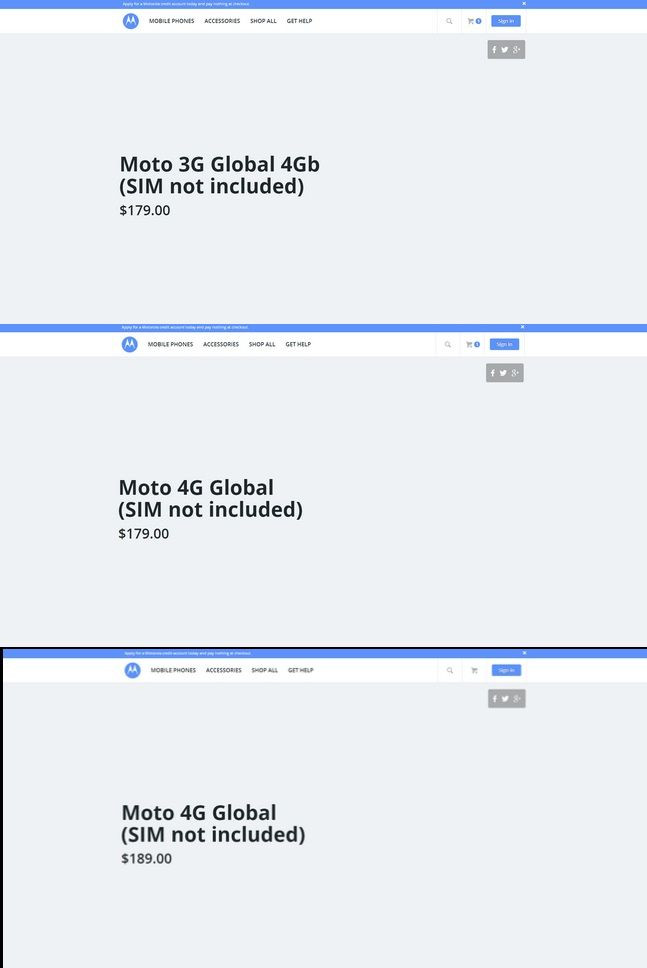 Motorola has added three new pages to its official site, which does not contain the product photo but only internal reference to a phone and price tag.
The website features one page for a mysterious device called Moto 3G Global 4GB, which costs $179, another for a device called Moto 4G Global at $179 and the third page refers to Moto 4G Global at $189.
There is no much information as to what these refer to. Nevertheless, there have been rumours in recent past that Motorola is planning to launch a 4G LTE version of the Moto G, reports PhoneArena.
What is Moto G Cinema?
Meanwhile, a well-known Twitter leakstar has hinted that a new Moto G variant known as Moto G Cinema is expected to be unveiled soon. The leakstar has not revealed much, except a screenshot of Motorola's support page with the name of the smartphone on it.
Moto G Forte, which was launched last month, was initially rumoured to be a rugged version of the Moto G. However, the device turned out to be a standard Moto G with Grip Shell case pre-installed, explains Android Central.
Hence, speculations indicate that Motorola might follow a similar route and bring the Moto G with digital content like movies and TV shows and name it Moto G Cinema.