MotoGP defending world champion Jorge Lorenzo of Spain has confirmed he will travel to this weekend's US Grand Prix at Laguna Seca. The 26-year-old Yamaha rider injured his collarbone during a high-speed crash at the Sachsenring in Germany last week.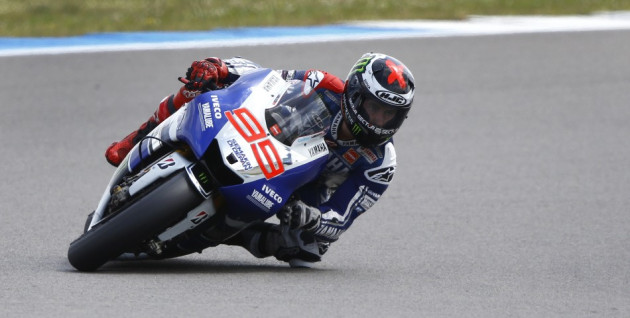 Initial reports and medical tests suggested the Spaniard would be ruled out till mid-August, when the 2013 MotoGP world championship visits the historic Indianapolis Motor Speedway. However, following emergency surgery in Barcelona, Lorenzo believes he is fit enough to at least consider participation in the weekend's race schedule.
"At the beginning I seriously thought that it might have been convenient to take the necessary time to recover and be back at Indy (Indianapolis) but in the last two days I have felt much better," the BBC quotes the racer as saying.
"Finally we have decided to go to Laguna Seca. Following the final medical check and after speaking with doctors, we are going to try," Lorenzo concluded.
The problem for Lorenzo is that the Sachsenring crash exacerbated an injury he suffered only two weeks earlier, during the Dutch Grand Prix at Assen. The Yamaha man was thrown off his bike during a wet practice session, at more than 200km/h. And the injury was severe enough to force an operation to insert a titanium plate and eight screws.
The injury in Germany was at almost the exact same part of his body, damaging the installed plate and screws and necessitating further surgery. This time, a new plate, 11 screws and a bone implant were deemed necessary.
Lorenzo's collarbone is well-worked; he suffered a similar injury four years ago, during a 250cc race at the Circuit de Catalunya in Spain.
Dani Pedrosa to Return
Meanwhile, Lorenzo's compatriot, Dani Pedrosa, has also travelled to the US, hoping to participate in Sunday's race. The 27-year-old joined Lorenzo on the sidelines at the Sachsenring, after a crash on Saturday morning injured his left shoulder.
The Honda rider, who trails another Spaniard, Marc Marquez, in the world championship by two points, suffered a minor fracture, according to the MotoGP website, and is believed to be ready to compete, following physiotherapy.
A team statement reads: "Thankfully, after a few days of rest, Dani is feeling well again and will travel to America on Thursday to allow him to have one additional day of physiotherapy treatment to the shoulder on Wednesday in Barcelona."
Marquez leads the championship from Pedrosa and Lorenzo, with Britain's Cal Crutchlow in fourth and the legendary Valentino Rossi in fifth.