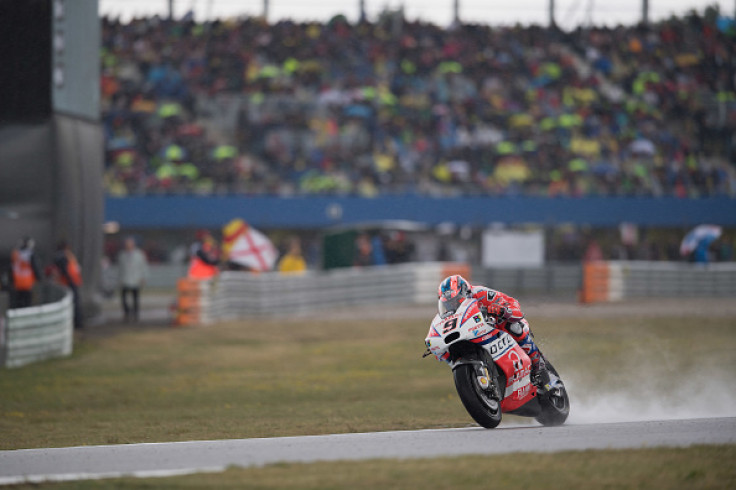 Tech 3 Yamaha rookie Johann Zarco picked up his first ever MotoGP pole position in the Netherlands TT at Assen during a wet and absorbing qualifying session – while Ducati's Jorge Lorenzo was caught in once again by the wet weather, which has often proved to be his nemesis.
Where to watch live
Live coverage of the final race of the Grand Prix starts at 1pm BST on BT Sport 2 and BT Sport 2 HD. Real-time internet updates are available on MotoGP's official website. Live streaming is available on BTSport.com and mobile users can stream it live via BT Sport's official app.
Qualifying review
French rookie Johann Zarco astounded everyone by taking the first ever pole position of his MotoGP career on Saturday with a superb late lap in qualifying for the Dutch Grand Prix at Assen. The twice-crowned Moto2 champion, who takes the wheels for the non-works Tech3 Yamaha team, completed the lap in a minute and 46.141 seconds to write his name in the history books as the first Frenchman on pole in the highest category since Olivier Jacque in 2002.
He was 0.065s faster than Honda star Marc Marquez, who finished qualifying in the second spot leading to the team's first pole since Cal Crutchlow at Brno in 2013. It was an exciting race from start to finish for everyone concerned in a wet track,with Danilo Petrucci setting the early tone on his Pramac Ducati, extending his pole advantage lap on lap.
However, Marquez rose to the occasion when it mattered, grabbing the second spot wit his final lap at 1m46.206s while Petrucci had to make do with third, finishing at 1m46.526s, with less than a minute left on the clock.
Valentino Rossi finished fourth and will be joined by Scott Redding (Pramac Ducati) and Jonas Folger (Tech 3 Yamaha) in row two. Alvaro Bautista (Pull&Bear Aspar Team) finished in P7 ahead of LCR Honda's Cal Crutchlow and was closely followed by Andrea Dovizioso (Ducati Team) to complete the third row.
However, the shock of the evening was reserved for the last two spots as Sam Lowes (Aprilia Racing Team Gresini) took centre-stage in his first ever Q2 appearance, finishing in a top 10 spot to head Row 4 – ahead of Championship leader Maverick Viñales (Movistar Yamaha MotoGP) in P11 and Dani Pedrosa (Repsol Honda Team) who was P12.
Top 12 qualifying results from Assen Grand Prix:
1. Johann Zarco FRA Monster Yamaha Tech 3 (YZR-M1)* 1m 46.141s [Lap 8/8] 292km/h (Top Speed)
2. Marc Marquez ESP Repsol Honda Team (RC213V) 1m 46.206s +0.065s [8/8] 294km/h
3. Danilo Petrucci ITA Octo Pramac Racing (Desmosedici GP17) 1m 46.526s +0.385s [7/8] 294km/h
4. Valentino Rossi ITA Movistar Yamaha MotoGP (YZR-M1) 1m 46.705s +0.564s[8/8] 288km/h
5. Scott Redding GBR Octo Pramac Racing (Desmosedici GP16) 1m 47.574s +1.433s [6/6] 286km/h
6. Jonas Folger GER Monster Yamaha Tech 3 (YZR-M1)* 1m 47.663s +1.522s [8/8] 287km/h
7. Alvaro Bautista ESP Pull&Bear Aspar Team (Desmosedici GP16) 1m 47.812s +1.671s [7/9] 292km/h
8. Cal Crutchlow GBR LCR Honda (RC213V) 1m 48.042s +1.901s [8/8] 289km/h
9. Andrea Dovizioso ITA Ducati Team (Desmosedici GP17) 1m 48.079s +1.938s [7/7] 293km/h
10. Sam Lowes GBR Factory Aprilia Gresini (RS-GP)* 1m 48.128s +1.987s [6/6] 285km/h
11. Maverick Viñales ESP Movistar Yamaha MotoGP (YZR-M1) 1m 48.266s +2.125s [6/8] 289km/h
12. Dani Pedrosa ESP Repsol Honda Team (RC213V) 1m 49.623s +3.482s [8/8] 280km/h