Key Features:
4.7in screen (720 x 1280)
Android 4.4 (KitKat)
Touchless Control
Active Display
Quick Capture camera
130g, 10.4mm
Price as Reviewed: £380
Motorola Moto X Review
All too often mobile phones are just boring iterations of what has gone before - slimmer this; thinner that; faster the other.
It's all very boring really, which is why the Moto X is a genuinely interesting smartphone, as Motorola has included some really innovative ideas - such as Touchless Control, Active Display and Quick Capture Camera.
We'll get to these ideas soon, but first a few words on the phone's design, screen, hardware and software.
---
Moto X: Design
---
When the Moto X launched in the US last August, it came with the option for customers to add a customisable rear cover. That is now gone, and instead you can just choose black or white options.
My review unit was a mixture of matte white plastic, glossy white plastic and glass. It doesn't look terrible but it isn't as good looking as phones like the Nexus 5, iPhone 5s or HTC One either.
It is relatively light (130g) but rather chunky (10.4mm) with the curved rear cover making it comfortable to hold for long periods, with Motorola claiming the phone "actually fits your hand" - which it does.
---
Moto X: Screen
---
The 4.7in screen on the Moto X has a resolution of 720 x 1280 pixels, giving it a pixel density of 312 pixels per inch (ppi), which may not be the highest out there (the Nexus 5 for example has a pixel density of 445ppi) but is still excellent.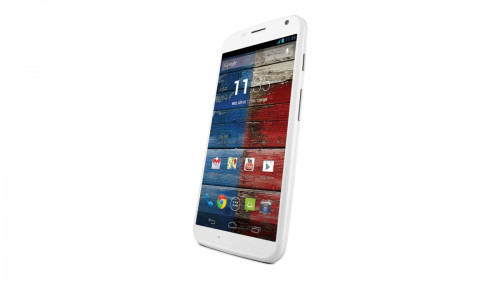 The screen is bright, sharp and doesn't suffer from backlight leak. Text is nice and crisp while HD video looks great.
---
Moto X: Hardware
---
Here is where the Moto X probably suffers the most. It has an older Qualcomm S4 chip powering it, and at times you do notice the interface not responding to your touches as fast as you might expect.
It does have 2GB of RAM, which helps, but when carrying out graphically-intense tasks like loading 3D maps, streaming video or playing high-end games, the older processor can struggle slightly - though it's by no means a deal breaker.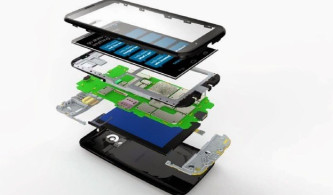 You can get the Moto X with 16GB or 32GB of storage but there is no option to add to this with a microSD card unfortunately. In terms of connectivity you get Bluetooth 4.0 and NFC along with support for the faster Wi-Fi AC standard - though you will need an AC router to take advantage of this of course.
In terms of battery life Motorola continues to lead the way, with the Moto X lasting well into a second day of typical use for me on several occasions and easily making it to the end of a typical working day.
And this is despite having lots of sensors running all the time to facilitate the likes of Touchless Control and Active Display.
---
Moto X: Android 4.4 (KitKat)
---
Motorola has done relatively little to the Android 4.4 (KitKat) interface, which is always a good idea.
It has added a number of its own apps, including Motorola Assist which lets you change settings depending on if you are in meetings, driving or sleeping; and Motorola Migrate - a brilliant app which helps transfer all the content from your old phone (including text messages, contacts, settings etc) to your new Moto X.
Overall the software is smooth and didn't crash once during my testing.
---
Moto X: Touchless Control
---
At CES 2014, Intel's enigmatic head of perceptual computing Mooly Eden said that voice and not touch would become the de facto way we interact with our smart devices.
We have had Siri and Google's voice assistant for a couple of years now, but
Simply saying "OK Google Now" activates the Touchless Control system, and using your voice you can carry out a range of tasks.
You can get the weather forecast, send a text message or call a contact, schedule a meeting, navigate to your next meeting or just ask it to look something up on Google - with all your commands answered by Google's voice assistant.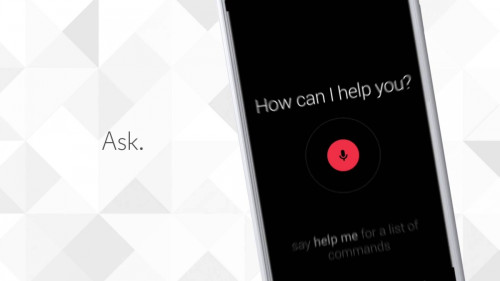 Despite my initial reservations, I found the system worked much better than expected. Once I had set the system up (by repreating the activation phrase three times) it responded instantly any time I used it.
It even works when the phone is locked, and you can set which services you can use when the phone is locked just in case someone is able to impersonate your voice.
The system obviously works best in a quiet location, and in the newsroom at IBTimes UK I felt I had to shout to get it to work, but my colleagues who tried to access the system were unable to use it at all - which is reassuring.
The range of things you can do is limited, but new features are being added all the time, and most of the things you want to do hands-free (such as call someone or navigate to your destination) are already available.
---
Moto X: Active Display
---
Typically smartphones alert users to notifications using pulsing or flashing LEDs. This is both annoying and not very helpful.
Motorola's way around this is Active Display, a system which sees the screen 'pulse' to show you the time and any notifications you have. If you have a missed call, Twitter or Facebook notification the screen will pulse every few minutes until the notification is dealt with.
To see what the notifications are, simply tap the middle of the screen. You can remove them with a swipe left or right, or if you want to launch the app related to the notification then just swipe your finger up to that notification.
The system works really well, and is somewhat reminient of the notification system on BlackBerry 10, which also shows you details of your notifications on the lock screen.
Here however you don't need to turn the screen on to see the notifications which saves you a lot on battery drain as well as saving you time locking and unlocking your phone.
---
Moto X: Quick Capture Camera
---
Motorola's 10 megapixel camera is good, but not great. It can't compete with the likes of the Nokia 1020, but then again nothing really can.
In good lighting conditions, image quality is very good, with decent colour saturation and a good level of detail. Low light performance isn't terrible by any means, but if you really need to take decent images without much light, you should probably look elsewhere.
But, to be honest, all this is only secondary to the brilliant quick capture activation method which Motorola has built into the Moto X.
Two quick twists of your wrist and the camera launches instantly with Motorola claiming it takes just two seconds to capture a picture.
The system can be used even if the phone is locked and a little vibration tells you the system has activated. It is such a better system than fumbling around for a shutter button or trying to unlock your phone.
Focusing and tapping on the screen to capture an image delays the picture-taking process, but the quick capture system should be applauded and copied by all other smartphone manufacturers.
---
Moto X: Value and Verdict
---
The Moto X costs £380 SIM-free, which is cheap compared to the flagship devices like the iPhone 5s or HTC One, but is £80 more expensive than the Nexus 5 and almost four times more expensive than the company's budget Moto G, which is on sale now for just £100.
At £300 this would have been a must buy.
While the design and performance are nothing special, the combination of Touchless Control, Active Display and Quick Capture camera make this a phone which stands out for all the right reasons.
Innovation in smartphones is so rare these days that Motorola should be congratulated and let's hope that the company's sale to Lenovo doesn't stifle this type of innovation.
Scores
Screen 9/10 – Bright, sharp and crisp - and a good size for one-handed use
Camera 9/10 – Image quality is only so-so but the quick capture feature is brilliant
Software 9/10 – Pretty much stock Android - which is always a bonus
Design 7/10– Uninspiring - glossy plastic doesn't look good, but the black version is better than the white
Build quality 8/10 – Feels very solid and weight just about right
Overall 9/10 – Innovative features and great battery life only let down by relatively high price
The Good
Touchless Control actually works well
Quick Capture camera a brilliant innovation
Great battery life
Active Display is a notification system that works
The Bad
Uninspiring design
Relatively expensive
Old processor