Motorola Motoluxe - Review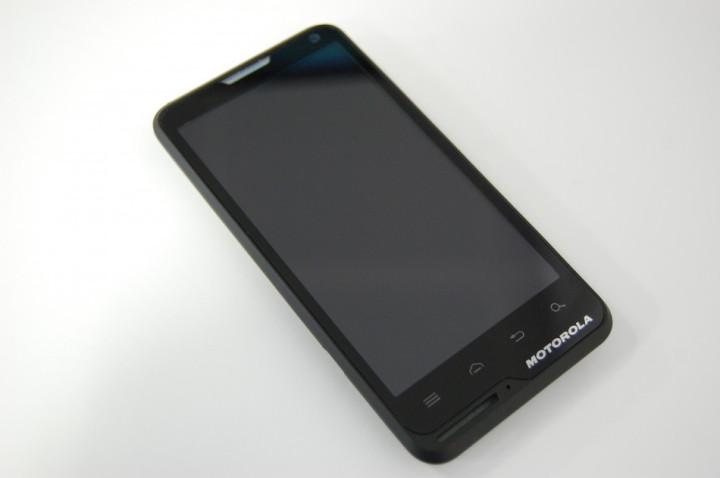 Overall Score 7/10
Key Features:
4in screen
8 megapixel camera
Notification light / lanyard slot
800MHz processor with 512MB of RAM
Android 2.3 Gingerbread
Price as reviewed: £219.99 (SIM-free)
Introduction
The Motorola Motoluxe is an Android Gingerbread-powered phone with a 4in screen, eight megapixel camera, with an emphasis on quality, but how does this all shape up when matched to a low price? We spent a week with the Motoluxe to find out.
Motorola Motoluxe: Design and Feel
The Motorola Motoluxe is aiming to be a high-quality smartphone with a fit and finish above that of anything else in its price range, and it seems to have achieved that. The phone feels very good in the hand and is impressively thin considering it features a 4in screen; the Motoluxe has 0.5in more screen space than the iPhone 4S, but its overall size is almost exactly the same.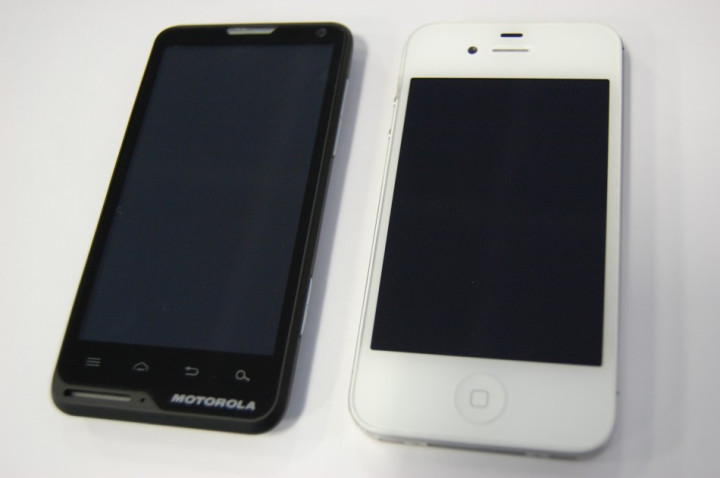 The sides and rear have a soft-touch plastic finish which adds to the quality feel and reduces the amount of fingerprints which show up. We did find, however, that the soft-touch plastic scratches and chips very easily, which is a shame because otherwise the Motoluxe looks and feels more expensive than it is.
The back panel is made of rubber-coated metal and slides into place revealing the chrome speaker grill, which complements the narrower grill on the front. The volume rocker and camera shutter button on located on the right hand edge are also all finished in chrome, as is the power button on the top edge. All these little touches add a premium feel to the Motoluxe which you don't expect at this price point.
Motorola Motoluxe: Notification light and camera
A unique feature of the Motoluxe is a lanyard slot on the lower-left that lights up in a variety of colours to notify the user of emails, texts, missed calls and battery status.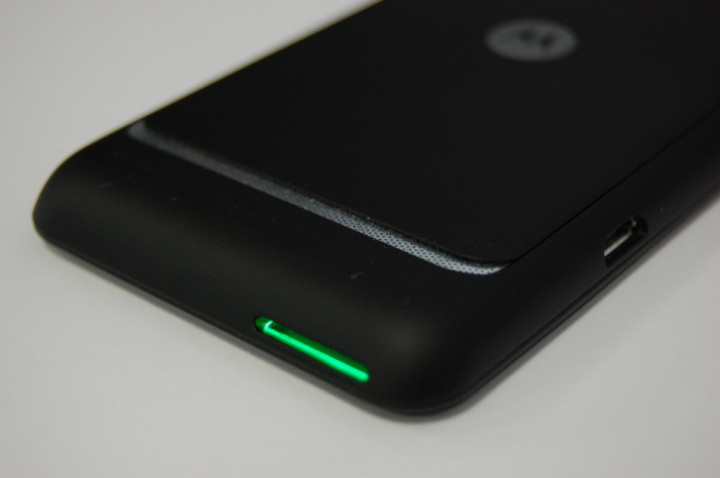 At first we thought this light to be a gimmick, but it is a fairly useful and welcome addition to the phone without looking like it has compromised the overall design. Also, we found it convenient that the light is visible on the front and the bottom edge, so if the phone is placed face-down on a table, notifications can still be seen. The light pulses roughly every second when there's a notification, which sounds a lot, but in testing we didn't notice it adversely affecting battery life.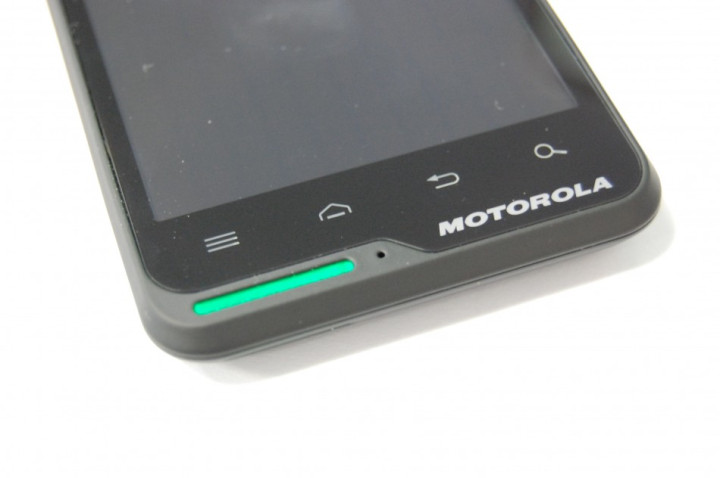 One annoyance of the notification light is that it's always on when the phone is charging, so you might want to cover it up if you plan on charging it by your bedside at night, otherwise it'll light up the room.
Motorola Motoluxe's camera boasts an 8 megapixel sensor which sounds great, but in testing we found the results to be sub-par. Comparing to the iPhone 4S and its 8 megapixel shooter would perhaps be unfair given the £280 price difference, but don't expect the Motoluxe to replace your point-and-shoot any time soon.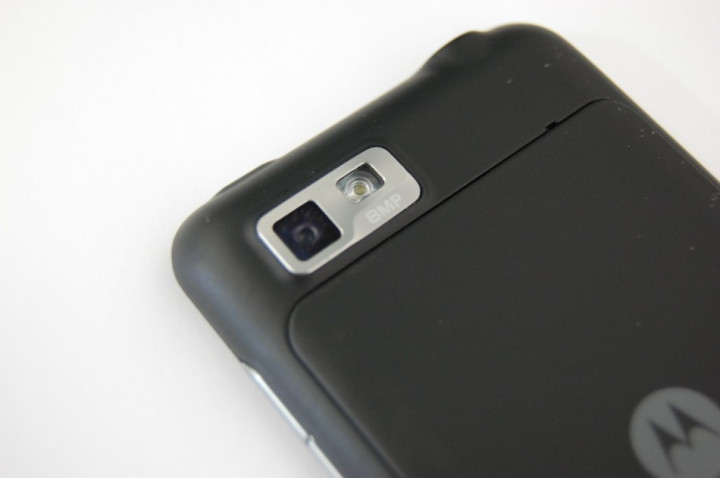 We found photos to be quite cold, lacking vibrant colour reproduction and a lack of detail you might expect from an 8 megapixel camera. We suspect this is in part due to the quality of the camera itself and proof, if it was needed, that more megapixels don't make a better camera. Another issue we found was the shutter button takes a strong push to activate, making it difficult to hold the Motoluxe steady resulting in blurry images. To combat this, you can tap an on-screen icon instead, and use the actual shutter button as a shortcut to launch the camera app - though this negates a lot of the positives of having a physical shutter button.
The photo below was taken with the Motoluxe and, as you can see, colours appear quite dull and the smaller details are lost. We found it difficult to take a good photo with the phone, sadly.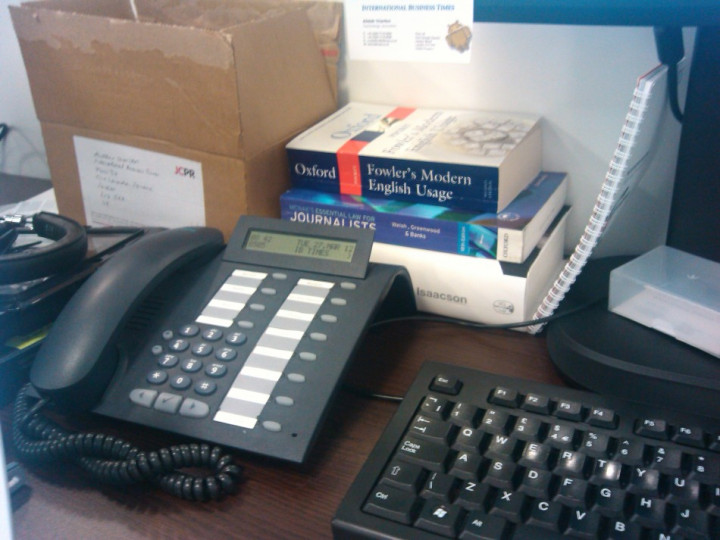 As the Motoluxe only comes with 300MB of internal storage - plus the 2GB SD card ours had installed - you can save space by shooting photos at one, three or five megapixels, as well as the headlining eight. Finally, the Motoluxe can shoot video but the maximum resolution is 800 x 480, with the default set at the VGA quality of 640 x 480.
Motorola Motoluxe: Connectivity and Hardware
No doubt a major selling point of the Motoluxe is the screen, at four inches it's bigger than any iPhone and other smartphones in this price range. With a resolution of 654 x 480 and a pixel density of 244ppi, it's not Retina display-sharp, but it is plenty good enough for a fairly budget device and we found it a pleasure to look at. However there is an issue with the screen once you tilt it from the optimal viewing angle any bit. Colours become washed out and you get a blue tinge to everything. This is due to the fact the screen technology is your basic LCD panel but for the price we couldn't have expected much more.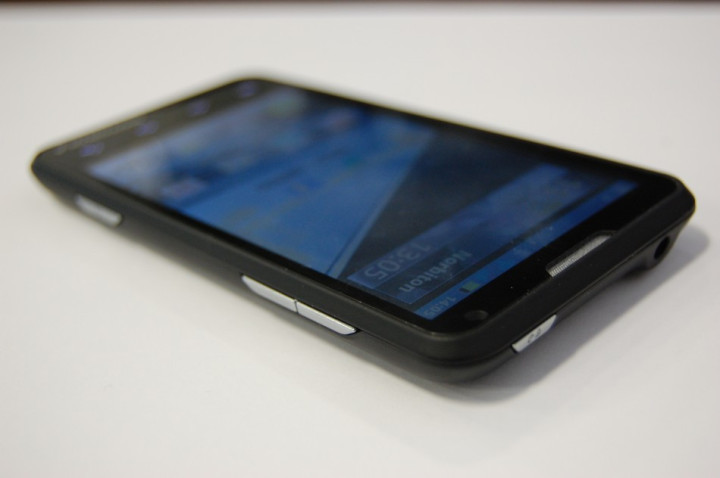 Below that large screen are four capacitive buttons that light up when the phone is unlocked; they control settings, home, back and search. On the left edge there is a micro USB port for syncing and charging with the included cable and travel-sized plug. Apart from that 8 megapixel camera on the back, there is also a VGA-quality camera just above the screen for video calls. Finally, the 3.5mm headphone jack is on the top edge of the phone.
As for wireless connectivity, there's Bluetooth 3.0, Wi-Fi b, g and n, and a GPS chip and FM radio. It also supports DLNA.
Motorola Motoluxe: Performance
The Motoluxe has to make do with Android 2.3.7 (Gingerbread) and, due to having a modest 800HMz processor and 512MB of RAM, it is unlikely that an update to Android 4.0 (Ice Cream Sandwich) will be possible.
That processor should be fine for basic applications, but in testing we found the user interface to sometimes appear sluggish and slightly behind our touch inputs. This was most noticeable when closing the camera or gallery applications, which would hang for a moment before closing.
We initially had some problems with the included Twitter app, which would throw up error messages every few minutes, but thankfully a software update fixed this annoyance.
Day-to-day activities like browsing the web, downloading from the Google Play application store (formerly known as Android Market) and communicating over social networks all worked fine but we get the feeling that small processor is working hard enough without being tasked with intensive games and multitasking.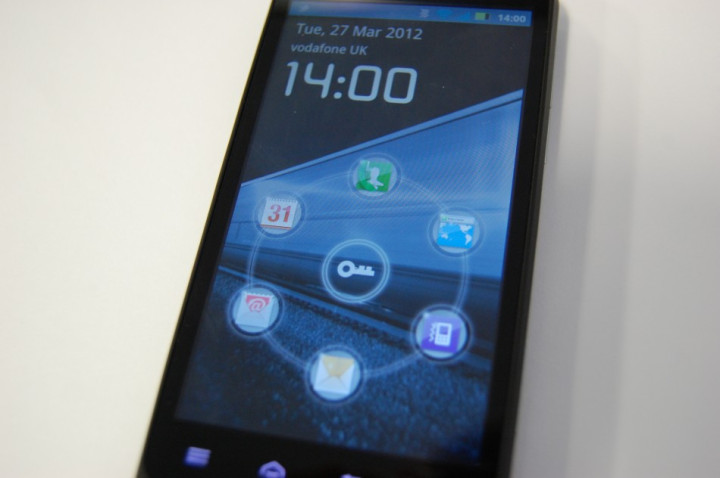 Motorola has updated its lock screen to offer six shortcuts to open apps immediately - these include access to the phonebook, browser, email inbox and the like but there isn't a way to customise these shortcuts, which is a shame.
While we found signal strength to be on par with other smartphones, we did once have to re-boot after having no signal for a few hours. Also, the volume of the earpiece could do with being increased, as we sometimes struggled to hear someone on the other end of the line.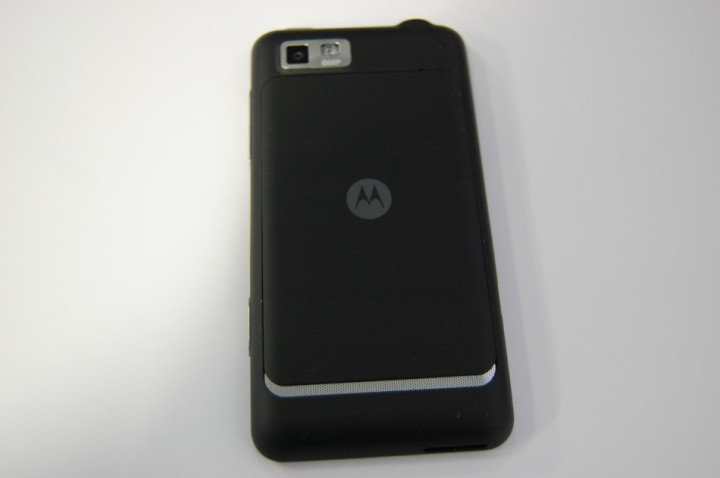 We were very impressed with the Motoluxe's battery life and often got two days of decent use out of the 1,400mAh unit. Worth a mention is data tethering; the Motoluxe was able to broadcast its 3G signal as Wi-Fi on our half hour commute without completely draining the battery.
Motorola Motoluxe: Value
Motorola is keen to point out that the Motoluxe can be snapped up for free on a £21-a-month deal from T-Mobile, providing just 100 minutes, but unlimited texts and a decent 750MB of data. Alternatively, the phone can be bought for £219.99 SIM-free, making it good value for anyone looking for a smartphone with a 4in screen. While the screen, processor and camera will not stand up to comparison with the likes of the iPhone 4S or the Samsung Galaxy S2 all these aspects are passable and considering the price, we can't fault them too much.
Motorola Motoluxe: Verdict
A well-priced phone that relies on its looks and build quality to make up for average performance and a slightly dated operating system. The Motoluxe certainly has an air of quality and competitive price, but for those looking for high-end performance and a stunning screen, they will be left slightly disappointed.
Scores:
Screen 7/10
Camera 6/10
Performance 6/10
Design 8/10
Build quality 8/10
The Good:
Large screen for the price
Good build quality
Attractive design
Looks more expensive than it is
The Bad:
Poor processor and RAM
Only 300MB internal storage
Camera doesn't live up to expectations