IBTimes UK visited a school in the Changara District, in Mozambique's Tete province, where teachers are using theatre to educate pupils on topics such as child marriage. Although the Mozambican government has outlawed it, the phenomenon is still widespread across the country due to poverty, inability to access education and cultural practices.
In Mozambique, the legal age of marriage is 18, or 16 with parental consent. But the UN International Children's Emergency Fund (UNICEF) estimated in 2016 that around one in two girls is married before her 18th birthday.
More than a quarter are married before the age of 15, with the phenomenon being more prevalent in the northern part of the country. Most of the girls have their first child within the first 15 months of the marriage.
Anabela Arnaldo, a first grade teacher at the school in Chengara, believes that theatre is a powerful tool that can help tackle child marriage.
"The aim of the play is to teach that we should not accept the fact that children get married at an early age. Children have to study, only when they grow up and find a job, they can look for a partner," she told IBTimes UK.
"In some cases, when they get married, children don't have anything to eat. So they start farming and taking care of their gardens, instead of going to school, meaning that they don't have any dreams for their future," she continued.
Traditional practices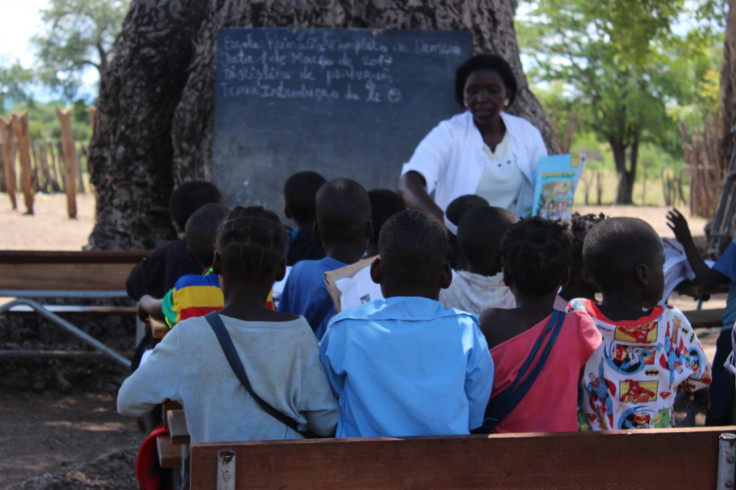 In 2016, the Mozambican government and non-governmental organisations launched a national plan to end child marriage. The strategy aims, among other things, to promote girls' access to education, family planning and support for married girls.
"The result is a comprehensive document that sees child marriage for what it is: a complex, multi-faceted problem which requires tailored, coordinated solutions," Girls Not Brides, a global partnership committed to ending child marriage and enhancing women's empowerment, said at the time the strategy was announced.
"To end child marriage, there must be a multi-sectoral, coordinated approach involving all key stakeholders. Mozambique has shown great leadership on this issue, and it has the potential to become a model for other countries in the region and beyond," said Mabel van Oranje, Girls Not Brides Board Chair.
The initiative has scored some success. But traditional practices emphasising, among other things, girls' subordination to their husband, still contribute to child marriage.
Organisations on the ground are working with communities and the government to help raise awareness on the negative consequences of child marriage and lack of education, which increase the likelihood of teen pregnancy, the spread of HIV and AIDS and domestic violence.
"Parents are worried because they have come to the conclusion that our poverty is fuelled by lack of education. One of the main causes of school dropout is early marriages, and female students who fall pregnant usually leave school," Simione Carlos Mhula, child protection manager at World Vision Mozambique, told IBTimes UK.
He explained that when girls become fertile, they receive a traditional education on topics including marriage, sex and how to take care of their husbands once they get married.
"Sometimes these kinds of topics can be mistaken and so children end up engaging in sexual activities earlier than expected. We try to add some kind of ethics to this type of education," Mhula said.
"We also formed and trained youth clubs and collaborate with government's consultative councils that aim to deliver education on certain topics including sexual abuse, child trafficking and early marriages."
Drought fuels child marriage
Traditional practices are not the only factor fuelling child marriage. A drought that has impacted millions of people in Mozambique – one of Africa's poorest nations – has resulted in school dropouts, further exacerbating early marriage.
Drought in Mozambique explained
Nearly two million people are going hungry in Mozambique
The drought is linked to the

El

Nino

phenomenon, caused by warm water in the Pacific Ocean
Communities in

Tete

province have been particularly impacted
Two consecutive seasons of lack of rainfall have depleted harvests, meaning that families do not have staple foods such as maize and sorghum for their subsistence
More on drought in Mozambique
Drought-impacted families are resorting to marrying off their children as they are unable to feed them and do not have money to keep sending them to school.
Furthermore, families threatened by lack of food tend to marry their daughters for the so-called "bride price", the amount of money they receive by the groom's families in exchange for allowing the marriage.

"We have so many cases of child marriages because lack of food," Mhula explained. "We have situations where fathers say they go to the city to find jobs, but then they disappear. People approach mothers saying they can feed their children, but they want their daughters as brides in exchange."
"In some cases, because of lack of food, parents tend to abandon their children. Delivering food can help prevent these issues. If families have food, they don't need to send their children to work or to allow them to get married," he continued.
"Even things such as access to clean water can help prevent crimes against children. If a child has to walk miles to fetch water, they would not have time to go to school and this is a violation of their rights."
---
IBTimes UK travelled to Mozambique courtesy of World Vision UK. Click here for more information about the charity's work in Mozambique.
---