Mr Robot just premiered a new clip from season 2 live on its official Facebook page, revealing Tyrell Wellick's fate. The clip opens with fsociety's mascot talking to the audience about the events of season 1 finale, where Eliot and his team, hacked into E Corp and made everyone debt free.
The mascot says, "Greetings brothers and sisters, we are fsociety. By now you know us, you have seen what we are capable of. Evil Corp is still reeling from our attack on 5/9."
"No longer will they control us, hold us hostage, betting against our future and have their criminal profits" says the man in the mask and adds, "We have shown the world that even the mightiest corporate monstrosity can be brought to hell and we are just getting started."
"We may have fired the first shot against Evil Corp, but it was a shot heard around the world. Our brothers and sisters in the North and South are already awakened and answered our calls. Over the next 24 hours our message rings out across the globe, as people everywhere join our rally."
"5/9 was just the beginning, only when every arm of Evil Corp top's toxic empire has been destroyed then we will have won. The real revolution starts now, we are fsociety, you are fsociety and together we can build a new world where we are finally free," said the masked person.
Warning: Spoiler Alert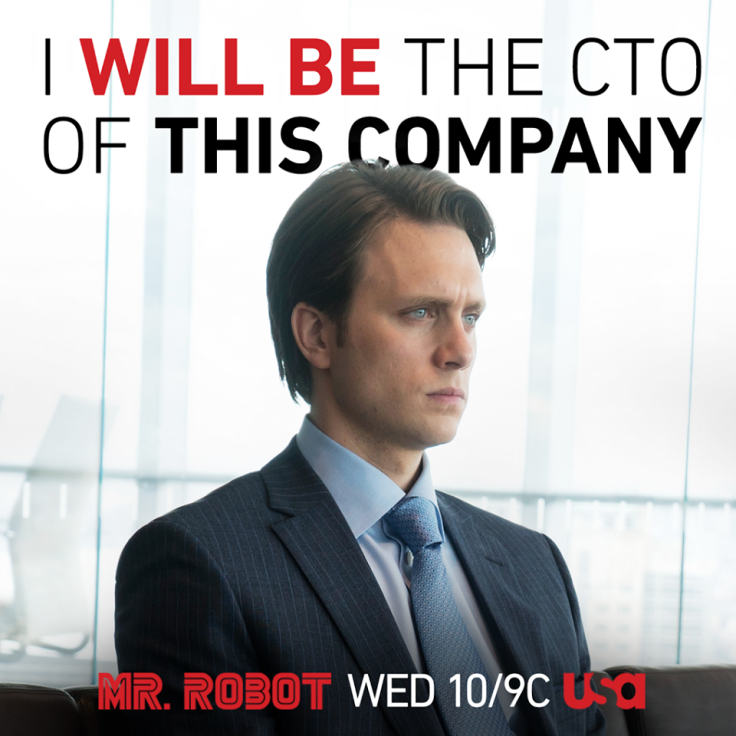 After this, the man takes his mask off and we see it is Tyrell Wellick as he asks, "Why this mask? It's a bit silly isn't? The scene then shifts to Eliot sitting at his computer, hacking into the multinational company.
Then we see Eliot getting up from his seat walking towards the popcorn maker, and putting his hands inside the popcorn searching for something and the clip ends. In the flash-forward scene it is shown that Eliot has hidden a gun in the popcorn.
The final episode of season 1 skips 72 hours, thereby jumping straight into the aftermath of the Ecorp Hack, with the financial world crumbling, Tyrell missing and Elliot having no memory of what happened in the past three days.
Did Elliot shoot Tyrell, so he will be blamed for the attack on E Corp? To know more, do not miss the two-hour premiere of Mr Robot season 2 on 13 July on USA Network.