Many Londoners are still uncomfortable with the idea of having a Muslim mayor, according to a new YouGov poll. The finding has prompted a multifaith group to argue religion is "irrelevant" to the position.
A poll of 1,153 Londoners found 31% of voters are "uncomfortable" with the idea of having a Muslim mayor elected in the 2016 mayoral race. The poll was conducted between 10 and 12 August and shows 55% of voters are comfortable with the idea and 13% are undecided.
Among Ukip voters discomfort with the idea was highest at 73%. Although, when it came to their feelings about electing a homosexual mayor 64% supported it.
But "London's next mayor should be judged on their abilities to perform the job," rather than religion argues Fiyaz Mughal, the director of Faith Matters, a UK NGO with Muslim, Sikh, Christian, Jewish and Hindu members that aims to promote dialogue between religious communities.
"It is troubling that a third of Londoners so hastily express a discomfort at the prospect of a Muslim mayor," said Mughal. "We should instead celebrate the religious diversity of London and the contributions of Muslims in public life."
Labour's Sadiq Khan, one of two Muslim candidates for mayor in the coming election, lashed out at broadcaster LBC Thursday after it suggested the poll showed more than half of Londoners opposed an Islamic mayor. The second Muslim running is Conservative MEP Syed Kamall.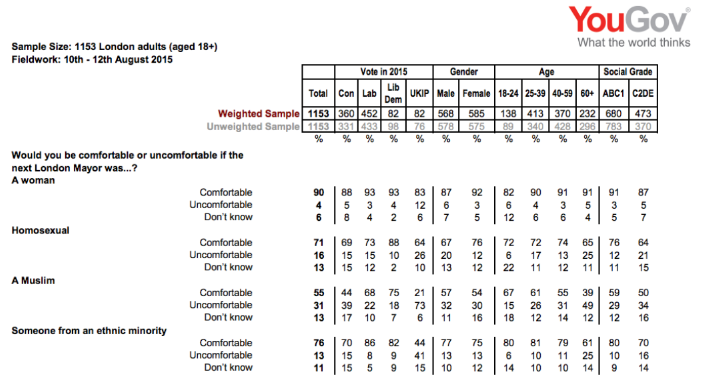 During his campaign Khan has said that electing a Muslim mayor would be an "awesome" message about the diversity of London. The poll shows that Londoners are more uncomfortable with the idea than he thinks.
In a letter to the LBC Khan's campaign manager wrote that he worried the poll risked fuelling prejudice and dividing the community.
Among young voters from 18 to 24 the idea of a Muslim mayor sat well, with 67% reporting they were comfortable with it. The idea of a woman, homosexual, or mayor that wasn't white received broad support.
"It is encouraging that a majority feel comfortable with a gay, female, or ethnic minority mayor," said Mughal. However, "that a third of Londoners are uncomfortable with the prospect of a Muslim mayor flies in the face of London's celebrated diversity," he said.
"The level of discomfort across the political divide suggests a rejection of religion in public office and a level of anxiety (and possible hostility), some hold towards Muslims".
The London mayoral election will be held on 5 May 2016.