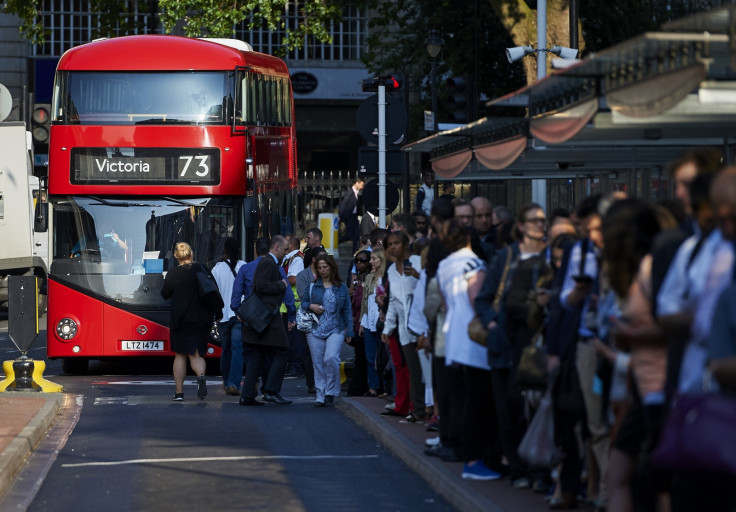 Tube unions and London Underground (LU) are back in talks today as the dispute over the new Night Tube service continues to rumble. Negotiations are currently "constructive", a source told IBTimes UK. But millions of commuters and tourists in the capital still face travel chaos on 25 and 27 August after the RMT, the TSSA and Unite called for two 24-hour strikes.
LU negotiators have been able to make further progress with the tube drivers' union Aslef, which represents the majority of drivers on the network. Aslef, a moderate tube union, failed to follow the RMT, TSSA and Unite in calling for a walkout of its members on Tuesday (12 August).
The union remains "optimistic" that it can make a deal with LU around the issue of work/life balance and an Aslef source said there had been some "progress" over the Night Tube rosters, which the union's dispute revolves around. However, if the parties fail to get an agreement, Aslef could still join RMT, TSSA and Unite members on the picket lines later this month.
Elsewhere, there have been positive signals coming from the TSSA, which represents ticket office staff and workers on the LU. The union's general secretary, Manuel Cortes, said common sense had "broke out" last night after the parties talked at meditation service Acas until 6pm.
"We are hopeful in this new climate that it should be possible to reach a comprehensive and fair agreement. This will allow for the implementation of a safe and secure Night Tube, which will benefit all Londoners," Cortes said. But TSSA members are still set to strike alongside Unite members at 6pm on 25 August and on 27 August, two and a half hours before RMT train operators walkout.
'Perfectly normal'
Unite, which represents more than 400 LU electrical and maintenance technicians, linesmen and signallers, had previously criticised LU's "vague assurances" over shifts. Hugh Roberts, a negotiator for the union, also previously told IBTimes UK that he wanted an increased pay offer of 2.5% for all LU workers after underground bosses offered an average salary hike of 2% this year and a 1% or Retail Price Index (RPI)-linked salary rise in 2016 and 2017.
Last night, Unite said its strike was still on cards but explained that the union is "looking for a solution". A spokesperson said: "Unite's position is that we are still in talks at Acas looking for a solution, and failing that we will be on strike on the two days."
The RMT are also back at the table today at Acas. The union, which represents LU drivers and workers, announced on Tuesday that their members will stage two 24-hour strikes on 25 August and 27 August. The news came after talks between LU and tube union negotiators adjourned on Monday to restart on 12 August. An RMT source told IBTimes UK that the decision to call the industrial action in-between the talks was "perfectly normal" and "nothing unusual".
The union's position has not shifted since Tuesday when the RMT released this statement: "LU has not tabled a proposal that would meet members' demands over pay and night running and as a result, the decision has been taken to call you out for a longer period.
"LU can be in no doubt over how seriously you take this matter and the threat of extended strike action, which I am sure will be as well supported as before and see a total shutdown of the service, will hopefully prompt management into tabling proposals which are worthy of consideration and can be recommended for acceptance by members."
The industrial action threatens the 12 September launch date for the new Night Tube service. But Transport for London (TfL) said LU is still "working towards" the delivery date and "are operationally ready". As for the pay dispute with the tube unions, LU have maintained that their offer is "fair" and that the Night Tube will create 500 jobs.
Steve Griffiths, chief operating officer for LU, said: "Having previously argued that it was all about 'work-life balance', certain unions have now made a whole series of unaffordable demands for more pay, shorter working hours and the reversal of the modernisation of the Tube.
"The £1.4bn cost would either mean our customers being hit with an extra 6.5% fares increase on top of the annual increases already assumed or wholesale cuts for plans to modernise the Circle, District, Hammersmith and City and Metropolitan lines.
"No responsible management could even contemplate such demands. Our customers and London's businesses want to see this dispute resolved and, instead of threatening strikes, we call on the unions to engage in calm and realistic discussion with us to achieve that."