In December, the first trailer for Universal Pictures' upcoming action adventure The Mummy landed and set up the film's basic premise. It saw Tom Cruise's Nick Morton and Annabelle Wallis' Jenny Halsey travel to Egypt and attempt to bring back an intriguing – yet cursed – case containing a mummified would-be queen (Sofia Boutella), but of course, things didn't quite go to plan...
On their return journey to London, viewers see Cruise 'die' in a place crash, and placed in a morgue – before bursting to life on top of a metal gurney and jumping out of a body bag. Now, the recently-released second sneak peek makes more sense as to how he could have possibly been put there in the first place and how Ahmanet, the titular antagonist, might have been behind his resurrection.
"Because of your actions, this ancient power has returned," Dr Henry Jekyll (Russell Crowe) explains to the newly-awakened Morton in the latest teaser. "You are alive because you were chosen by the ultimate evil. She will not stop, until she has remade our world into her own."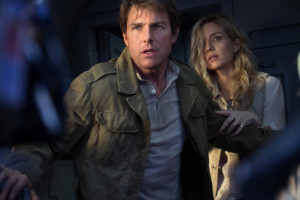 Meanwhile, Halsey elaborates on Morton and Ahmanet's ties even more, saying: "Legend has it, she's a being of unimaginable powers. Now she's using you to regain them." Anyone who's a fantasy nut won't need to be told that the latter may well be using Morton's life force in order to maintain her undead state and build her supernatural abilities back up. (The double-irises in her eyes, seen in both the first trailer and the movie's official poster, suggest that she's existing through two bodies or entities too).
There's not much Morton can do about it either, if the final statements of Jake Johnson's character Vail are to be believed. "You can't run, you can't escape," he ominously tells him. "She's got plans for you."
What those plans are exactly, fans will have to wait and see but fortunately, not for much longer. Directed by Alex Kurtzman and also starring American Crime Story actor Courtney B Vance, The Mummy will be released in both UK and US cinemas on 9 June 2017.