An Indian man has described from his prison cell how he tortured to death a man he says raped and impregnated his 14-year-old daughter in a case which has again highlighted the issue of sexual assault in the sub-continent.
The dead man was said to have been a tenant of the family who attacked the girl when she was alone, telling her not to tell anyone or he would kill her. The girl's father only discovered the truth when she became pregnant and developed morning sickness.
The 36-year-old, who cannot be named, admits in an interview inviting the alleged attacker to the family home in Delhi for a meal.
"I didn't want to kill him and asked him to quietly leave my home and life but he taunted me," he tells the Mail Online. "I became very, very angry and lost my mind. I wrapped a towel around his neck and tied his hand, and dragged him to the floor. I switched on the gas and put the iron tongs and made it hot."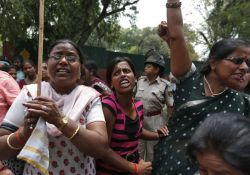 The enraged father says he then began strangling the man and put the hot tongs on his genitals.
"He screamed so loudly so I put a part of the towel in his mouth to silence his noise. I burnt his genitals a second time, his body twisted and I was so enraged that I did it a third time in succession. After some time he stopped breathing and collapsed on the ground."
The father says he went to the police within a few hours and admitted what he had done. Under Indian law if found guilty of murder he could now face 25 years behind bars.
Rape and child abuse are receiving more publicity in India following the horrific rape of 23-year-old Jyoti Singh Pandey on a bus in 2012 in a case which became known as 'the Nirbhaya incident'. Pandey died of her injuries 13 days later.
In recent months there have been several other widely-publicised incidents vigilante attacks on those thought responsible.
In Kumaon region thousands took to the streets after a seven-year-old girl was abducted and killed. In another widely-publicised case, two teenage girls named Murti and Pushpa found hanging were believed to have been sexually assaulted and murdered, but local authorities now believe they weren't attacked after all and took their own lives.
The incidence of rape in India is lower than in other developing and developed countries. According to the National Crime Records Bureau the annual rate for rape is 2 per 100,000 of population in India, compared with 8.1 in western Europe and 28.6 in the US. In other parts of the world such as Latin America and Southern Africa the rates are far higher still.