Muslims in America are outraged that a religious fanatic who planned to firebomb mosques and shoot Muslims in a small town in New York State has been released on bail ahead of a probable jail sentence.
Robert Doggart, 53, a former candidate for a Congressional seat in his home state of Tennessee, pleaded guilty to charges he was planning to commit a terrorist attack on "Islamberg", near Hancock, 140 miles north of New York.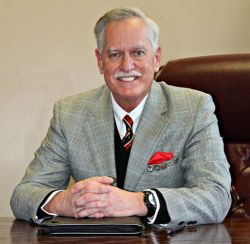 A federal arrest warrant detailed comments Doggart made on social media and in intercepted phone calls in which he apparently made clear his intentions.
"We shall be Warriors who will inflict horrible numbers of casualties upon the enemies of our Nation and World Peace," Doggart wrote on Facebook.
In a recorded phone call to someone he thought was an accomplice but who was actually an informant, Doggart said: "Those guys [ought or have] to be killed. Their buildings need to be burnt down.
"If we can get in there and do that not losing a man, even the better."
Doggart made detailed plans to attack Islamberg's mosque, school and cafeteria, as part of a 20-strong militia referred to as the "American Taliban".
In another call he said: "If there's a gunfight, well there's a gun fight. And I do want to come home 'cause I love my family and I want to see my kids again. But I also understand that if it's necessary to die then that's a good way to die."
The FBI swooped before Doggart could carry out his threats. He pleaded guilty on one count of interstate communication of threats and posted $30,000 (£20,000) bond before being released. He is expected to be sentenced to five years in prison. However, some local Muslims are angry he was released after admitting to such a deadly plot.
"Doggart is an example of the results of unchecked and rampant Islamophobia which has spread lies for years about our peaceful community," said Muslims of America's public relations director, Muhammad Matthew Gardner.
"This man plotted to mercilessly kill us, kill our children, and blow up our mosque and our school. We have sound reason to believe he has already visited our other locations around the U.S. What other murderous plans do he and his private militia have and where are his accomplices?
"All would agree, if a Muslim did this, the perpetrator would be immediately identified as a terrorist then prosecuted to the fullest extent of the law."
An ordained Christian minister in the Christian National Church, Doggart stood for Congress in 2014, at the same time he was apparently plotting to attack US Muslims. He attracted 6% of the vote.