Although some people decry graffiti as nothing more than vandalism, I happen to really like it.
While admittedly some of the tags – or personal signatures - that you see around the place just look like messy, black scribbles in marker pen, to be fair to the perpetrators everyone's got to start somewhere.
And the good thing is that at least a few of those messy, black scribbles will eventually evolve into much more elaborate pieces comprising flamboyantly stylised letters in a myriad of rainbow colours.
Or into amazing works of street art that rival anything you're likely to see in a rather more sedate and stuffy gallery - and that, high art snobbery aside, require equal levels of skill to create. Try drawing anything even vaguely recognisable using chunky, great tins of spray paint and you'll get an inkling of just how much expertise is required.
And so it was that, on spotting a listing for a 'Graffiti Tour of Fresh 2014 Pillars' in downtown Newtown on www.JHBLive.com, I thought it had to be worth a look – even if it did mean dragging my somewhat distressed carcass to the Sci:Bono science museum meeting place at the ungodly hour of 9am on a Sunday morning.
But it was there that my Beloved and the inadequately-attired personage that was myself met Jo, our guide and owner of the Past Experiences Joburg city walking tour company, in what felt like sub-zero winter temperatures, with a wind-chill factor of -1 zillion.
The tour itself was actually a fund-raiser for the Salvation Army-run Bethesda House and Bethany's Children's Home, which was opened in 1993 in Soweto to care for a total of about 85 disadvantaged and abandoned kids, many of whom suffer from HIV/AIDs.
It turned out though that, rather than just being a random topic chosen at will, graffiti art was another thing dear to Jo's heart. Currently undertaking a masters degree in Conservation of the Built Environment, her dissertation is on what contribution graffiti makes to it.
Public art
So for instance, while research indicates that the appearance of graffiti goes hand-in-hand with house price declines of around 14%, she believes that it actually assists regeneration in areas that are rundown anyway, not least by encouraging people to visit – her tour being a case in point.
Anyway, the good thing with having an enthusiastic guide is that their fervour inevitably rubs off on you - whether you are cold enough to be rendered insensate or not.
The first stop on the tour, although more public art than graffiti art, was to view an amazingly lifelike bronze statue of the now-deceased but iconic South African pop diva, Brenda Fassie, outside of the Bassline music venue.
Here we discovered that the Johannesburg Development Agency dedicates an amazing 1% of its budget for any given public works project to the creation of public art.
The aim is to make the deprived downtown area into the largest street art gallery in the world by 2040 in a bid to rebuild civic pride, give a boost to local creative industries and attract visitors - all of which seems very progressive and has to be worth a shot.
Next we weaved our way along paths lined with some 560 carved wooden heads sitting on plinths. Because Newtown has been home to thousands of migrants for the better part of the last century, the aim of the artists was to create a sea of faces reflecting their huge diversity apparently.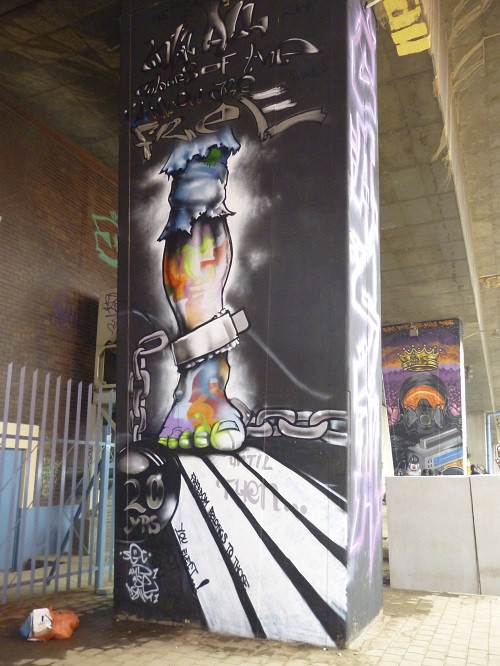 In early gold rush Johannesburg, it seems that the area used to consist of various hideously overcrowded, multi-racial slums, which attracted people due to their closeness to the town centre.
These slums were razed to the ground in 1904 following an apparently convenient outbreak of bubonic plague though, which resulted in many of their inhabitants being forcibly removed to Klipspruit, which was to later morph into Soweto.
The economically-valuable neighbourhood was then rebuilt as a commercial and industrial area in order to take advantage of its proximity to nearby goods-yards.
Smashing the stereotypes
Renamed 'Newtown', by the 1970s and following a period of industrial decline, it started to be invaded by arty types drawn by the large, open spaces of the abandoned industrial buildings, before metamorphosising into today's so-called 'Cultural Precinct'.
Anyway, I digress. After taking a look at different styles of tags, walls covered in multi-coloured murals and the odd stencil, we came to the highlight of the trip – the pillars under the M1 highway on Henry Nxumalo Street, which have now become quite a tourist attraction.
Given as a gift to the people of Johannesburg, these pillars act as the site of an annual graffiti art competition during the 'Back to the City' hip-hop street culture festival, which always takes place on the Freedom Day public holiday (27 April).
The competition, which adopted the theme of 'freedom' itself this year to honour South Africa's 20-year anniversary of inclusive democracy, was won rather appropriately by a local Soweto crew.
Nonetheless, it seems that it is only over the last four or five years that black graffiti artists have started emerging in any numbers in Jozi at all.
Previously, this predominantly male-dominated scene was almost entirely monopolised by middle-class, white kids from the suburbs – although, interestingly, the most famous South African artist at the international level, Faith47, is a woman.
Moreover, the movement was also said to start initially – and very belatedly when compared to either the US or UK – in the mid-1980s in the Cape Flats' townships due to the influence of hip-hop, with pioneers including Gogga, Ice and Falko.
But it was only towards the end of that decade and the start of the next that graffiti art moved north to Joburg. Somewhat ironically though, particularly given Cape Town's reputation as a creative hub versus Jozi's more business-focused image, it seems that the former's major crackdown on the art form is causing a number of its proponents to migrate.
The reason is that, while graffiti may still be technically illegal across South Africa, as long as artists in Joburg obtain permission to do their thing from the pertinent building's owners, they won't face any problems. And that surely has to be a good thing.