Johannesburg has a shocking reputation internationally. So when you mention to the average Brit that you're living there, they look at you like you've just said you're residing in a war zone and ask what it's like in hushed tones.
But the response is completely different if you say you dwell in the Cape. It's amazing just how many people from the UK have either visited on holiday and loved it, or aim to go at some point in the future.
And, unsurprisingly, if they have visited themselves, they'll wax lyrical about the region's beauty, how friendly and laid back the locals are and what a fabulous time they had chasing up and down the Garden Route.
But the funny thing is just how deceptive appearances can be. Because in reality, the murder rate – the usual yardstick used to measure how dangerous or violent a city is - is almost twice as high in Cape Town than it is in Johannesburg these days, according to a recent report by South African national newspaper, the Mail & Guardian.
But to be fair to my much-loved former home, even this fact is rather misleading as, between April 2011 and March 2012, nearly two-thirds of all homicides took place in only 10 of the city's 60 police station precincts.
Not entirely surprisingly, most of the victims came from deprived, low-income areas, with residents – and in particular, young black men – living in local townships such as Mitchell's Plain and Khayelitsha suffering disproportionately.
While recent surges in gang violence certainly haven't helped matters much, the majority of people nonetheless tend to be killed by friends, family members or acquaintances following booze- or drug-fuelled rows.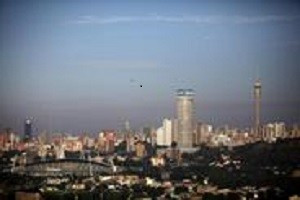 What this all means in practice is that, despite a national murder rate that is four and a half times higher than the global average of 6.9 per 100,000 people - equating to 43 homicides each day - the bloodshed tends to be pretty localised.
Feared and fearful
Three out of four murders take place in just a quarter of the country's police station precincts, with homicides in affluent suburbs such as Camps Bay in Cape Town or Parkhurst where we live in Johannesburg, being rare.
The reason that Jozi gets such a bad rap, however, is that, according to the South African Institute of Race Relations' South Africa survey, it outstrips all other cities in the country for aggravated robbery.
Aggravated robbery involves the use of a deadly weapon and includes activities such as carjacking and domestic theft. And it is these crimes that generate the most fear, not least because of their sheer randomness.
Unlike murder, which tends to be committed by known people following a specific chain of events, they are mainly indiscriminate acts perpetrated by unknown, faceless individuals that make people feel very unsafe as a result.
Therefore, you could say that Jozi is actually the most feared, and fearful, city in South Africa – although that's certainly not to trivialise its high crime rate, particularly in the city's rundown, downtown Central Business District.
But such matters are all too easy to forget when you're sitting with a glass of wine in your hand in a bar in Parkhurst on a Friday night or browsing around doing a bit of shopping in nearby Rosebank shopping mall during the day.
You truly could be in any large city anywhere in the world, and you're certainly not standing there quivering, waiting for something awful to happen at any moment.
Nonetheless, security is a high profile business around here and undoubtedly contributes to any complacent feeling of wellbeing, whether justified or not.
In our neck of the woods, for instance, you'll routinely see so-called NYPD private security officers hanging around on street corners as well as Cortac guards patrolling about in their trucks, all with the aim of ensuring that no one's lurking around and getting up to no good.
Private security
And their credentials are impressive. Cortac, which just happens to be our security services provider, is staffed by former military and special forces personnel – and they wear chunky, black body armour and semi-automatics to prove it.
Their response times are also amazingly quick. When a pre-Christmas storm caused the branch of a tree to take out the electric fence nestling atop our high perimeter walls, in the process setting off the alarm and terrifying the wits out of us at some God forsaken hour of the morning, they arrived to search for undesirables within minutes. Literally.
So what with that, an internal alarm system and panic buttons should we need them, no one can say that we're not prepared.
In other middle class areas such as the upmarket residential suburb of Hurlingham though, you'll also come across manned road barriers that restrict access to anyone that they don't like the look of. Many of the gated communities and larger properties likewise sport their own little sheds with private guards sitting in them.
But even in more open residential streets like ours, you still won't be able to peek through anyone's curtains as they're all hidden behind three meter high security walls, complete with sign boards advertising that they're protected by this firm or that firm 24 hours a day.
But, dramatic as this all may seem to your unsuspecting Brit, it's all just another day in the life of the average Joburger – and the country's private security industry for that matter, which has more than doubled in size over the past dozen years and is now the largest in the world.
Comprising 9,000 organisations that employ over 400,000 guards to service the requirements of middle- to high-income families nationwide – a figure that is incidentally, more than twice as many as the under-resourced and struggling South African Police Service - it is currently the single biggest provider of entry-level jobs in the country.
Which means that the sector will likely have an important role to play in the wellbeing of the country for some time to come. And in mine too, presumably.
Cath Everett is a resting journalist who has written about business, technology and HR issues for over 20 years. She recently moved from the UK to South Africa with her husband