My South African Adventure: In the Market for a New Market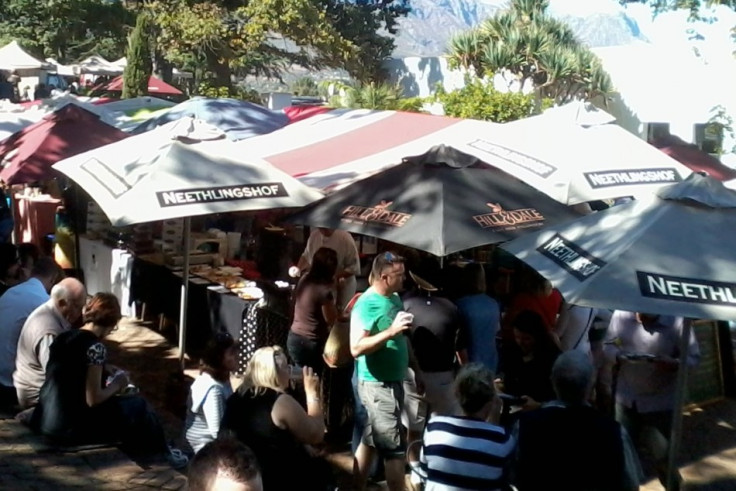 Our mission over the last few weeks has been to find a weekend market in Joburg that we enjoy quite as much as our lovely Slow Food one in Stellenbosch.
The good thing about our Cape Winelands favourite was that it sold everything from organic veg and freshly-made eats to a variety of arts and crafts, including hand-made jewellery.
Another advantage was that it was just around the corner from home and had an absolutely stunning setting. Located in the Oude Libertas wine farm on the side of the Pappagaaiberg ('Parrot Mountain' in Afrikaans), the site was surrounded by oak trees and vineyards and afforded breath-taking views over the Stellenbosch mountain range. Fabulous.
Sadly, so far however, we haven't found anything that compares to our market-that-had-it-all– although the Fourways Farmer's Market at the Earth Outdoor Living Nursery in Jozi's northern suburbs probably comes closest.
Open every Sunday from 9am until 2pm, its 50 or so canopy-covered stalls are set in pretty gardens that you access via a pine tree walk, passing a hay bale seating area to your right and an open air maypole ribbon marquee to your left.
Just beyond the maypole are a number of wooden al fresco bars selling everything from wine and craft beer to a very dangerous 7% proof cider that tastes just like sparkling apple juice.
And even at 11.30am in the morning, a respectable number of hardy souls were already partaking, sitting around on hay bales with glasses in their hands, listening to a live blues band as they munched their way through pulled pork sandwiches, chicken biryanis and the like. You've got to admire their stamina.
My personal favourite in stall terms though, belonged to a retired property developer of Italian heritage, who had nothing to show for himself but a blue-checked table-cloth, a basket of bread and crackers, and a sparse, white serving dish containing multi-coloured dips.
Nonetheless, as we ambled by, he called us over and encouraged us to sample his wares. Which turned out to be the most amazing pesto that I've ever tasted and which he made at home simply for the love of it. Great stuff.
Montecasino
Somewhat incongruously though, this right-on foodie hang-out is directly opposite Montecasino, a huge R1.4 billion (£780.6 million) – as its name implies - casino and entertainment complex, fashioned a la Las Vegas in the style of a Tuscan hilltop village.
And this tasteful theme continues inside – all sandstone and ochre winding streets and palazzos, housing shops, restaurants and even a cinema and theatre, alongside 70 gaming tables and 1,700 slot machines, apparently. It's as kitsch as kitsch can be – and I loved it.
I had the pleasure of meeting a mate from Stellenbosch there a couple of weekends ago now who, together with her family and the old school friends that they were staying with, treated me to a game of 10-pin bowling.
Amazingly, seeing as I generally have the coordination of a jellyfish, I even managed to make it into second place out of a group of seven - a once-in-a-lifetime achievement, and true journalistic triumph as the winner happened to belong to the profession too.
Anyway, getting back to the food market point, another venue that's definitely worth a visit is the more edgy Neighbourgoods Market in "vibrant" - for which read regenerating and bohemian – Braamfontein (or 'blackberry fountain' in Afrikaans).
Unlike the Fourways Farmers Market, which is mainly about selling fresh, seasonal produce and deli-style delicacies, this one is more of a breakfast/brunch/lunch venue.
Here you can sample Bunny Chow or 'bunnies', a mild curry from Durban's Indian community served in hollowed-out bread; frikkadels, which are gently spiced, baked meatballs; and vetkoekies, which comprise yeasty balls of fried bread dough.
These can be served either in sweet mode, for example, covered in cinnamon sugar, or in flattened form as a savoury sandwich generally with some kind of meaty filling.
The Market itself, meanwhile, first started life at 73 Juta Street in 2011. Opening from 9am until 3pm, it is housed over two floors in a Brutalist-style former office building, which boasts a 15-storey concrete façade by Edoardo Villa, an Italian sculptor who lived for most of his life in South Africa.
Urban renewal
And it also turns out to be the sister of a similar venue in Cape Town, which was founded five years earlier in a sky-lit Victorian warehouse at the Old Biscuit Mill in the rundown, but likewise regenerating area of Woodstock.
The aim of entrepreneurs, Justin Rhodes and Cameron Munro, was to try and aid this regeneration process by introducing their own version of the artisan markets, operated along ethical and eco-friendly lines, that they missed from time spent in New York.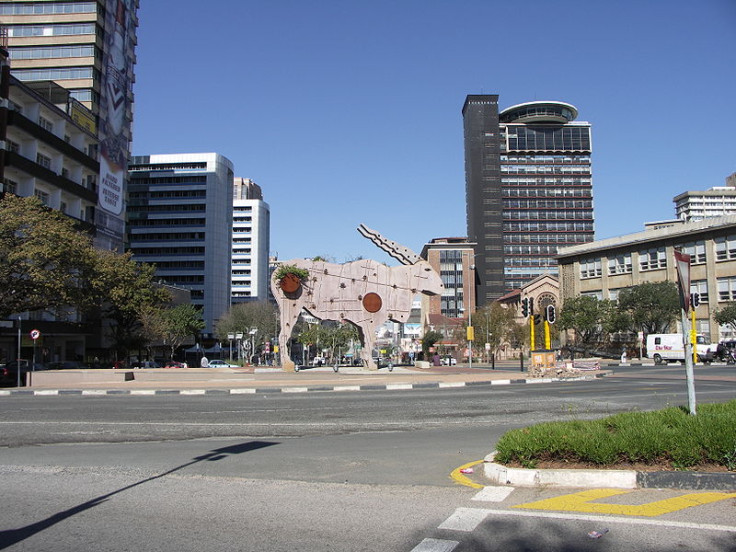 And it seems that Braamfontein was grateful for the break. Located just outside of the now rundown Central Business District (CBD), it had been a key commercial hub before the so-called "white flight" from the inner city.
This migration of businesses out to Joburg's new economic centre in the affluent northern suburb of Sandton and the exodus of residents to its surrounding neighbourhoods took place during the late 1980s and early 1990s as members of disadvantaged communities increasingly moved in.
The upshot was that, by the late 1990s, the CBD and its surroundings had become gang-infested, no-go areas. Over the last decade or so, however, the provincial government has tried hard to promote inner city renewal.
As a result, it has, with varying degrees of success, introduced everything from CCTV cameras in a bid to cut high crime rates to tax incentives in order to encourage businesses back.
But Braamfontein had never been quite as devastated as its notorious residential neighbours such as Hillbrow and Yeoville, and so has proved easier to bring back to life.
Current site of Joburg's University of Witwatersrand, it now fancies itself as a young, trendy, creative centre, with The Grove, a bar and eatery-filled public square at its centre – although non-student residents still aren't too keen on trailing the streets after dark, so I hear.
Anyway, while we still may not have unearthed that perfect Jozi market just yet, finding out a bit more about the city and its delights has to be one good way of settling in.
© Copyright IBTimes 2023. All rights reserved.