South Africa's dreadful international reputation for violent crime will certainly not have been helped by the latest statistics released last Friday (19 September, 2014).
While overall crime levels may be falling, the most scary offences such as murder, attempted murder, and aggravated robbery are all on the rise, according to Police Minister Nkosinathi Nhleko.
For example, the number of homicides during 2013/14 rose for the second year running, this time to 17,068, a leap of 5% on the previous 12 months. This means that the equivalent of 47 people were killed each day last year.
Just as worryingly though, it appears that social unrest is also on the up in the form of protests against poor or non-existent service delivery in the townships, as well as strike action, particularly in the mining sector.
Interestingly, the number of sexual offences against women and children was down slightly, with rape levels falling by 6.3%, something Nhleko attributed to a "higher consciousness" in society as a result of government and media campaigns.
But the country is far from being in a position to pat itself on the back. It still has one of the highest rape rates on Earth, and to make matters worse, the estimates are that only one in 25 incidents is ever reported.
As to the cause of this increase in violence, Nhleko attributed it at least partially to high levels of substance misuse. "The prevalence of drugs and alcohol abuse in our community is extremely concerning," he said. "They tend to a production point for criminal activity."
Of particular concern these days is a cheap narcotic known as 'nyaope' in Gauteng, which includes Johannesburg and Pretoria, and 'whoonga' in Durban – an illegal drug to which President Jacob Zuma warned earlier this year the nation's youth were becoming "slaves".
According to the United Nations, this heady cocktail of heroin, dagga (marijuana), and other substances ranging from milk powder to even anti-retrovirals and rat poison to pad it out, is unique to South Africa.
Although it first emerged in Durban in 2010, its use has spread like wildfire among impoverished township dwellers over recent times, particularly since Afghanistan started flooding the world market with heroin following bumper opium poppy crops.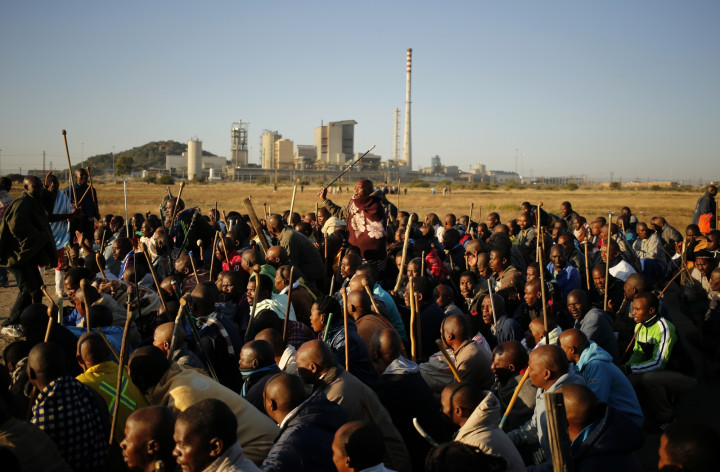 Whoonga
Sean, an addict who spoke on African news channel eNCA's recent Checkpoint documentary, 'Whoonga Addicts Special', indicated that, in Durban, where heroin is smuggled in via the city's port, the drug costs as little as ZAR20 (£1.10) a parcel or straw, which can be either smoked or injected.
Hence his decision to move there from Joburg, where the price is more like ZAR100-200 (£5.50-£11) per hit, of which most addicts need several a day.
Sean was, in fact, one of the thousands of people who were cleared out of the slum-like King Dinuzulu Park near Durban's city centre – now dubbed Whoonga Park by locals - in July 2014.
The police arrested some 2,000 addicts, including girls as young as 15 who were involved in prostitution to fund their habit, following gang warfare by two rival groups the previous year.
Worryingly though, says Ishara Poodhum from the South African National Council for Drug Abuse and Alcoholism, the number of nyaope addicts is growing by 10% year-on-year, and its dreadful withdrawal symptoms, which include diarrhea and vomiting, make it a particularly difficult habit to break.
Even worse, statistics show that the average age of drug dependency in South Africa is now 12 years and dropping, a figure that is shocking by anyone's standards.
But if Sabelo Qwabe, a resident of Clermont township in Durban, is to be believed, the sheer ubiquitousness of whoonga, which people can become addicted to after a single hit, is part of the problem.
He told Checkpoint that it was possible to buy the cream-coloured powder almost anywhere – in "the food shop, clothes shop, supermarket, even the tuck shop because they see it gives them money".
Sadly, Qwabe's 13-year old brother died smoking it after having been an addict for only six months.
While the government has already built seven rehab centres across the country to cope with all kinds of addiction and plans to build six more, waiting lists are huge and addiction rates mounting.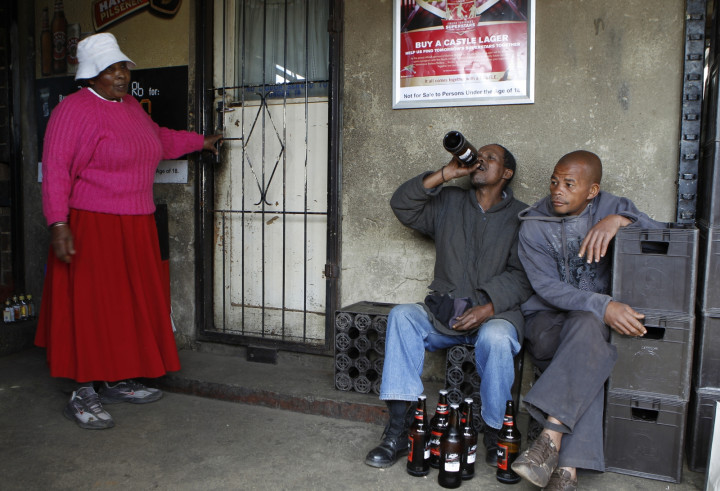 Alcohol
But despite the dreadful toll that nyaope is taking on the townships, it is alcohol that is the single most abused drug in South Africa, according to Quintin van Kerken.
A former addict himself, van Kerken heads up the Anti-Drug Alliance of South Africa to provide education and support services to substance abusers and their families.
Alcohol, he says, accounts for roughly 20% of all addiction at the national level, while drugs of all types come in next at another 20%. The remainder is made up of a heady mix of prescription medication, gambling, sex and porn.
In fact, it turns out that according to this year's World Health Organisation report on alcohol and health, South Africans are actually the heaviest drinkers on the continent and the 29th biggest topers in the world - although they behaved better than the Brits who come in at number 25.
In real terms, this means that the average person here consumed just over 27 litres per annum in 2010, about 10% higher than the global average.
But it is also important to bear in mind that, because three out of five South Africans do not drink at all, the ones who do are making up for the rest, particularly in terms of binge-drinking to get drunk.
One of the most shocking things I have come across in relation to alcohol in South Africa is the so-called 'dop' system (Afrikaans for a drink).
Now mostly but not entirely defunct, the system which was widespread in the Cape Winelands until relatively recently, saw local wine farm workers being paid a portion of their wages in the form of daily measures of cheap, low quality booze.
The practice, which was made illegal in 1961 although prohibition was not enforced until the end of apartheid in 1994, led to large numbers of people with serious addiction problems.
And they are problems that, sadly, are still being played out in all too many families today.