At first glance, deprived inner city Johannesburg is just an ugly mess of long litter-lined streets, decaying tower blocks and scruffy-looking shop fronts.
Despite being the metropolis' key commercial hub before the so-called "white flight" of the late 1980s and early 1990s, the Central Business District (CBD), as it's known, doesn't have a particularly good reputation locally - to say the least.
In fact, on mentioning to middle class friends and acquaintances that we'd done a walking tour around the place courtesy of the Joburg Heritage Foundation last weekend, we definitely raised more than a few eyebrows.
The first question to form on nearly everyone's lips was "why?" closely followed by "were you scared?" Which, to be honest, I wasn't, albeit maybe because of the safety-in-numbers thing.
But I certainly can't say that I felt any more threatened than I would in various rough and tough neighbourhoods in London – despite Joburg's shocking, although perhaps somewhat overstated, reputation for violent crime.
Once downtown has been braved though, it's worth taking the time to look just that little bit closer at the environment around you. This is because, hidden among the profusion of alienating Brutalist structures, you'll find some real little gems, particularly of the Art Deco variety, which hint at the affluence and grandeur of the city at the height of its gold rush heyday.
Among the most impressive is Stuttafords, one of South Africa's first – and still extant - department stores, which was initially established in Cape Town in 1857.
This beautiful late Victorian/Art Deco mix of a building on the corner of Pritchard and Rissik Streets - which at 10 storeys amounted to Jozi's first skyscraper - was erected in 1927/8 on the site of an older shop in the former heart of the city's retail district.
Iconic landmarks
An iconic local landmark that, sadly, has now stood empty for more than a decade, it was once surrounded by equally upmarket stores and was definitely one of the places for fashionable women of the day to see and be seen.
Another stunning Neo-Baroque edifice that's definitely worth a look, meanwhile, is the Rand Club at the corner of Loveday and Fox Streets. Much favoured by wealthy businessmen and politicians including Nelson Mandela in his day, it was the brainchild of British mining magnate and arch-colonialist, Cecil John Rhodes.
Rhodes was keen to set up a gentleman's club on the London model for himself and his fellow 'Randlords'. European entrepreneurs, often of humble origins, it was they who controlled South Africa's diamond and gold mining trade from the start of the industry's 1870s pioneer phase on the Witwatersrand – hence the 'Rand' in Randlords, Rand Club etc – up until World War I.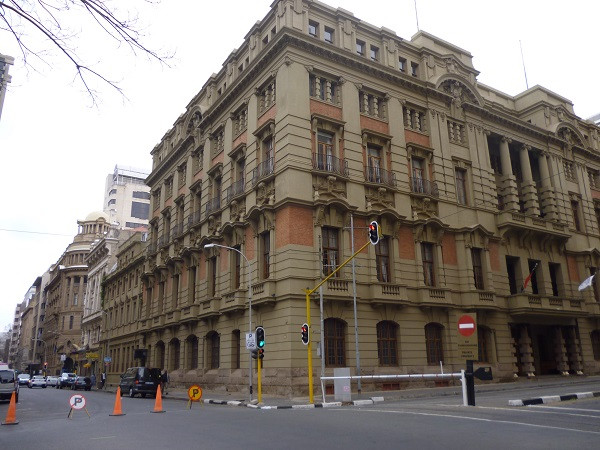 And our neighbouring suburb of Parktown became the place that many of them chose to build their showy homes and mansions - although, sadly, the vast majority were demolished during the late 1960s and 1970s to make way for offices and the M1 motorway.
But such wanton destruction was, according to our tour guide, the product of several unfortunate factors. Firstly, Johannesburg, as you might expect given its materialistic roots, is not, and never has been, a sentimental city.
Secondly, Joburgers tend to be fickle creatures and at that time no longer valued what they had, lusting instead after the new. This meant attempting to transform their home into a US-style city, complete with towering skyscrapers – a mission which, particularly during the 1970s and 1980s, they were kindly helped in by local property developers, with their focus on short-term gain.
Anyway to get back to the point, the Rand Club, originally established in 1887, quickly became an icon of status, opulence and tradition, housing what is allegedly the longest bar in Africa as well as everything from restaurants and billiard rooms to well-stocked reading libraries.
So much was tradition valued there, in fact, that women were only allowed to become members in 1989 following fierce debate and two referendums - coincidentally just as the fortunes of the CBD started to wan.
The 'fairer sex'
But such was the antipathy of the gentlemen to the fairer sex, it seems, that they even excluded the two female signs of the Zodiac, Virgo and Aquarius, from a series of 10 stained-glass windows in a passageway leading to one of the bars, presumably in case of disruption to their quiet, male haven.
As to how such interesting little tidbits came to my notice in the first place though, that can be attributed to last Saturday's "Johannesburg's Fiery Women" walking tour in honour of South Africa's National Women's Day (9 August).
The annual public holiday commemorates a march held in 1956 by more than 50,000 women on the Union Buildings in Pretoria to protest against the apartheid regime's pass laws.
These laws meant that anyone defined as "black" by The Population Registration Act had to carry a pass that designated in which urban or metropolitan area they were allowed to live, work and travel. Failure to produce this pass resulted in arrest.
But these brave women certainly weren't the only Gauteng females to stand up for human rights. Arguably top of that list comes Albertina Sisulu, anti-apartheid activist and wife of Nelson Mandela's best friend Walter, who is affectionately known as the 'Mother of the Nation' and has a major road in Jozi named after her.
Or Mary Fitzgerald, otherwise known as 'Pick-handle Mary', who became the country's first woman trade unionist, first female printer and first female city councillor.
Born in Ireland in 1882, she came to South Africa with her dad at the age of18 and acquired her nickname during Joburg's 1911 tramway strike. Much to my Beloved's disappointment though, it wasn't the result of braining somebody with one.
Instead it was more that a group of strikers she was in charge of happened to pick up a bunch of pick-handles dropped by the police when trying to avoid a barricade - an incident that resulted in their naming as the "Pick-handle Brigade", of which Mary became leader.
And it's an incident that goes to show just how careful you should be in jumping to conclusions – whether they relate to buildings, or to people.