Myanmar's beauty queen Shwe Eain Si has alleged that she was stripped of her pageant title for posting a video that blamed the Rohingya Muslims for causing the ethnic violence that has flared up in the country. The video, which showed Si criticising Rohingya militants, contained graphic images of the victims of the violence. It was reportedly posted last week.
The Miss Grand Myanmar crown that Si won last year was taken away from her on Sunday (1 October). The pageant's organisers, Hello Madam Media Group, did not mention the video as the reason for stripping Si of the title but accused the 19-year-old of not displaying behaviour consistent with pageant winners. They did not specify what exactly Si's fault was.
Hello Madam Media Group director Soe Yu Wai told the BBC that the decision to strip Si of the title was made much before "her Rakhine video" went online.
The violence in Myanmar's far west Rakhine state, which is home to the Rohingyas, has led to widespread international condemnation. The Myanmar army has been accused of waging an "ethnic cleansing" campaign against the Rohingyas.
On Tuesday (3 October) Si posted on her Facebook page justifying the video, saying she was "obliged as a citizen of this country to use her fame to speak out the truth [about the violence] for her nation".
She admitted that she did make a video about the "reign of terror brought about by the Arakan Rohingya Salvation Army (Arsa) militants in Rakhine state" but argued that this could hardly qualify as a "failure to project a decent image of a pageant contestant".
Si had in her video accused Rohingya militants of causing unrest in the region and accused the Rohingyas of "tricking the world" into believing that they are the oppressed ones.
More than 410,000 Rohingyas have fled to neighbouring Bangladesh since 25 August to escape violent attacks by the Myanmar army. The refugees have sought shelter in the already overcrowded camps in Bangladesh's border town of Cox's Bazar.
Despite international criticism, the Myanmar government has continued the crackdown, terming it as an anti-terrorism operation. The government has blamed ethnic terrorist groups for spreading violence in the country.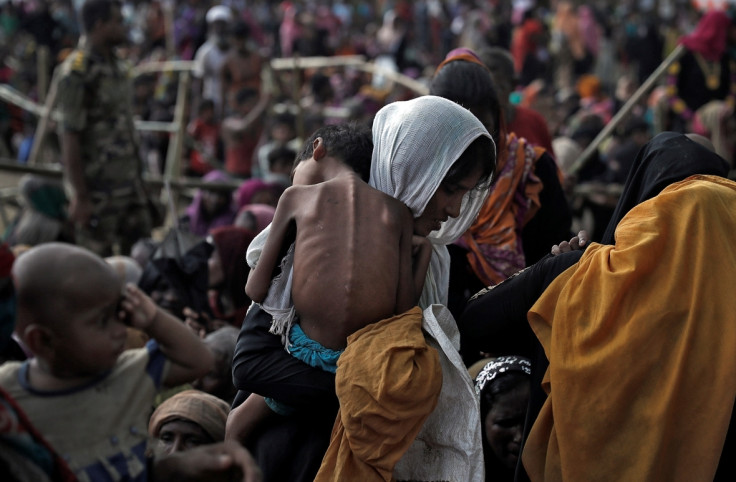 This is not the first time a beauty pageant winner has been stripped of her title in the Asian country. In 2014, another beauty queen was dethroned for alleged dishonesty and bad behaviour after which she fled with her crown to South Korea.