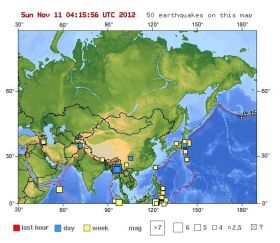 At least five people have been killed and several others missing as a strong earthquake of magnitude of 6.6 struck the second largest city of Mandalay in Central Myanmar. Two aftershocks of 5.0 magnitude followed.
According to the US Geological Survey, the earthquake hit at 07:42 local time (01:12 GMT) and has a depth of 9.8 km (6.1 miles). The epicentre was near the town of Shwebo in Mandalay region, 572 km east of the Dhaka, capital of Bangladesh. The tremors were also felt in Bangkok, the capital of neighbouring Thailand
Local media reports said the dead were workers who were at the construction site of a bridge in the city of Shwebo.
The strong quake sparked a panic among residents forcing them to run for safety.
"I ran from my bed carrying my daughter out to the street. There were many people in the road. Some were shouting and others felt dizzy," Mandalay resident San Yu Kyaw told AFP.
"People are now scared of more earthquakes. Especially those who live or run businesses in high-rise buildings are desperate and don't know what to do."
At least 75 people were killed in March 2011 when a powerful earthquake of 6.8 magnitude struck Myanmar.