The UN special rapporteur on the situation of human rights in Myanmar, Yanghee Lee, on Monday (13 March) said that Naypyidaw might be using bureaucratic means to expel its Rohingya Muslim minority from the country after a security crackdown against them caused an international outcry.
The UN Human Rights Council was told that the Buddhist-majority nation was still making Rohingyas' lives difficult by dismantling their homes and conducting a household survey.
"Conducting a household survey - where those absent may be struck off the list that could be the only legal proof of their status in Myanmar - indicates the government may be trying to expel the Rohingya population from the country altogether.
"I sincerely hope that that is not the case," Lee said before the council.
Ethnic Rohingya Muslims in Myanmar have reportedly been victimised over the past few years as they are considered a stateless minority and termed illegal immigrants in the Buddhist-majority country.
However, the recent military crackdown against them was launched on 9 October 2015 after an attack on three security posts, in which nine policemen lost their lives. Since then, around 75,000 Rohingya Muslims have fled to Bangladesh, where Lee said she had heard "harrowing account after harrowing account".
"I heard allegation after allegation of horrific events like these – slitting of throats, indiscriminate shootings, setting alight houses with people tied up inside and throwing very young children into the fire, as well as gang rapes and other sexual violence," she told the council.
She even urged for a commission of inquiry (COI) to investigate alleged atrocities against the Rohingya people.
However, Myanmar's ambassador Htin Lynn called the allegations not verified and biased. He said that the situation in Rakhine state is stable and added that the curfew was eased earlier in March.
Lynn said the government is addressing the allegations seriously, but dismissed the term "crimes against humanity" as "it was envisaged based on unverified, intentional and one-sided allegations".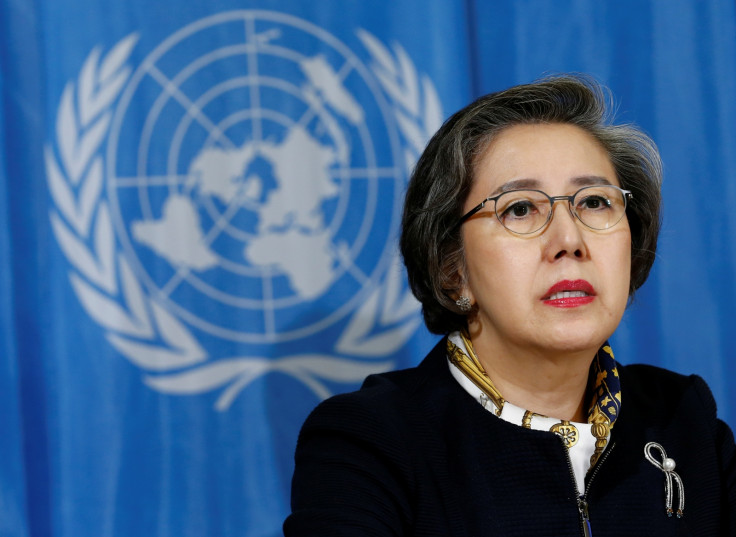 Lynn also dismissed the proposal of COI and said even though the country has objected to the formation of a COI, "it doesn't mean that we condone impunity".