The number of people seeking refuge in China from fighting in restive Myanmar border towns has rose to more than 20,000 now, China's foreign ministry has said on Thursday, 9 March.
Spokesman Geng Shuang made the comments at a regular press briefing in Beijing that people fleeing Myanmar are seeking temporary shelter in China. It is thought to be following intense clashes between government forces and ethnic Chinese rebels in Kokang region in Myanmar's northeastern Shan state, which borders with China.
On Tuesday (7 March), Beijing had called for an immediate ceasefire after fighting renewed between the two sides on Monday. China urged both the parties to resolve their disputes through dialogue and consultations.
A shell fired during the clashes reportedly exploded about 100m across the border in China injuring one person, according to South China Morning Post.
About 30 people were reported to have died in an attack on 6 March in the town of Laukkai, which is located 800km (500 miles) northeast of commercial hub Yangon.
"Thousands of people have crossed into China," Reuters cited a Chinese government official as saying on 8 March. The officer did not want to be named because of the sensitivity of the issue.
Witnesses at a town in restive Kokang region described how the clashes created chaos and created panic among the residents.
"There are so many people here and the traffic is chaotic. There are thousands of refugees here and they look frightened. Some of them brought suitcases with them, while some only brought some light clothes," a staff member at the Golden Star hotel in Nan San told the news agency.
The renewed clashes are said to have caused a huge blow to Myanmar leader Aung San Suu Kyi's chief goal of reaching a peace deal with ethnic minorities in the country. She came to power in 2015 upon promising that she would bring national reconciliation.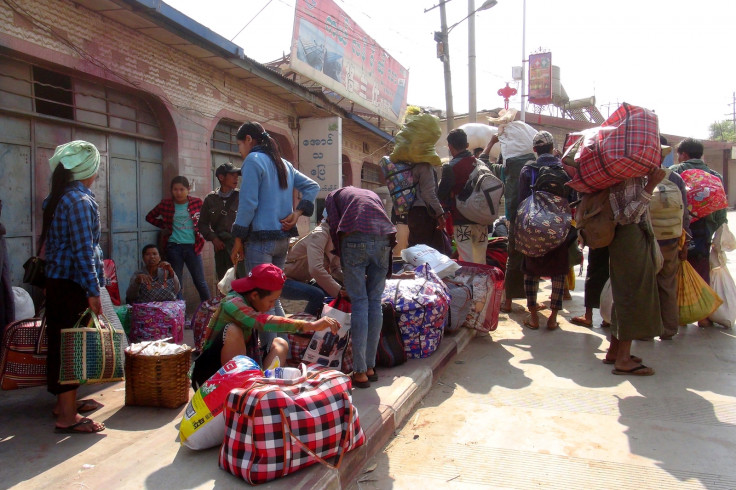 "The situation in northern Myanmar relates to the peace and tranquillity of the China-Myanmar border," Geng had said on 8 March. "The relevant parties should have an immediate ceasefire to prevent the clashes from escalating and return normal order to the border as soon as possible."
He added that since the violence resumed, many residents of the Myanmar border town fled to China fearing their safety. China is reportedly providing assistance to those fleeing Myanmar on humanitarian grounds, the foreign ministry said.
Myanmar is already grappling with an ethnic conflict in northwestern Rakhine state, where hundreds of Rohingya Muslims were forced to flee to Bangladesh.