People are celebrating what looks like a landslide victory for Nobel Prize laureate Aung San Suu Kyi's party, the National League for Democracy (NLD), in the elections held in Myanmar on Sunday (8 November) but politicians in exile claim only a revolution will bring change.
As preliminary results continue to emerge, the NLD has laid claim to sealing a majority in Pyidaungsu Hluttaw, Myanmar's parliament, in a move that many have described as the dawn of a new era, and the impending end to 25 years of rule by the military-backed Union Solidarity Development Party (USDP).
Myanmar needs 'a revolution'
Tint Swe, a former NLD parliamentarian elected in the Pale Township in the southern Sagaing Region in 1990, believes Suu Kyi "will call the shots", but said only a regime change will bring an end to the military epoch, as the president is technically under the army chief according to the existing constitution.
"Apart from that Burma [now called Myanmar] needs a sort of dramatic change like a revolution, which needs a strong leader loved by the general population and respected by ethnic nationalities. All except the military agree Aung San Suu Kyi is the only choice," Swe, who was part of the government in exile after fleeing to India following the arrests of many of his colleagues, exclusively told IBTimes UK.
The political landscape is already poised to shift after pro-democracy champion Suu Kyi this week stated that she will make all the decisions in the country and the president will be appointed "just to meet requirements of constitution" and will have "no authority".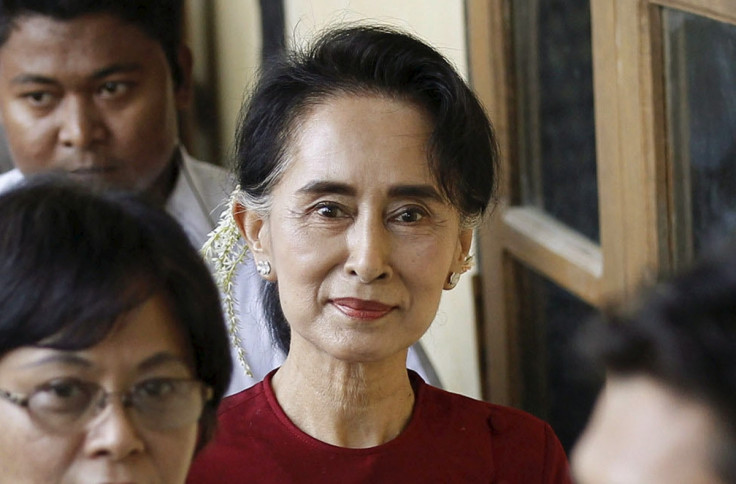 'Wide gap' with the military
Suu Kyi's victory could also be a "golden opportunity for the military to makeover its bad image," Swe said, highlighting that the army's fizzling out "can be shorter than expected".
While a similar victory by opposition political parties in 1990 was later cancelled by the military-installed government, it is unlikely to be repeated this time given the military's loosening grip on the administration.
This, Swe claims, is because the population has no trust in them. "The gap is still wide," the former parliamentarian explained.
Avoiding censorship in exile
Swe, a politicised medical doctor, resettled to the United Stated last year after spending 24 years in exile in New Delhi.
In 2012, he was one of the 2,000 individuals removed from Myanmar's black list by President U Thein Sein, but said he has no intentions of returning to his native land "because I want to [talk about Myanmar] to my people, as well as outsiders, without any self-censorship".
Staying away from Rangoon has given Swe the confidence to write for newspapers inside Myanmar, as well as in India, but he is still wary that change in Myanmar will take time.
"I must say my optimism [about a revolution] may be wrong," he added.