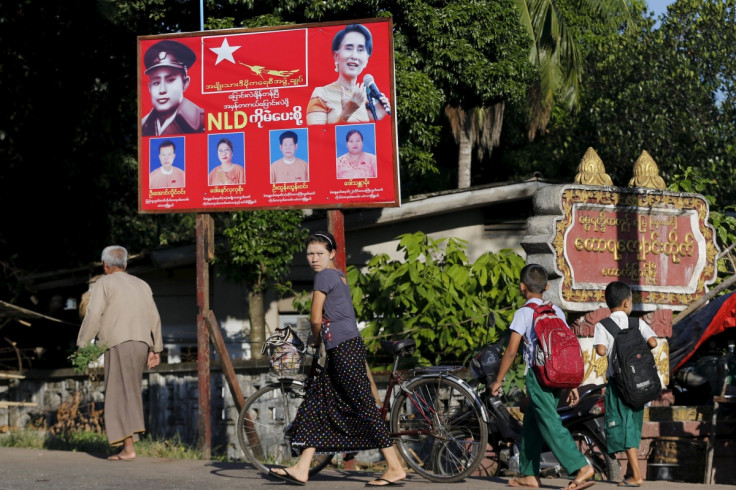 Citizens in Myanmar's capital Rangoon have been stockpiling food ahead of the historic elections taking place on Sunday 8 November for fear of violence, according to local sources.
Sunday's poll has been dubbed the first 'free and fair' general elections in 25 years. It is expected to change the pace and scope of the country's democratic reforms. In 2011 the military dictatorship stepped back from power after 49 years of rule and a semi-civilian government took power.
Citizens are concerned that, depending on the outcome of the election, there could be violence or protests. This comes a day after Myanmar President Thein Sein warned of bloodshed if his ruling party loses in the elections in a video posted on Facebook, threatening an uprising like the Arab Spring.
Mark Farmaner, director at Burma Campaign UK, told IBTimes UK: "This is partly a legacy of previous elections. After the 1990 election, there was a crackdown that followed and you had other times where you had protests and it's been dangerous for people to go out. So people are just very nervous that, if the military lose, the military could be out on the streets. Whoever wins, people are concerned that there could be protests, and that could lead to violence."
Local reports indicate there has been a larger police presence on the streets in recent days, after around 40,000 so-called election police were recruited to maintain security. On condition of anonymity, residents also spoke of fears that a military victory - which people would attribute to rigged or unfair elections - could also trigger protests.
Violence 'unlikely'
Farmaner believes violence is "unlikely", as he explained the military "do not need to have a coup". Indeed, the military would remain in change behind the scenes should Aung San Suu Kyi's National League for Democracy (NLD) opposition party win.
"It is understandable why people are worried, but Aung San Suu Kyi in particular is always opposed to any protests and any violence, and the military have a lot at stake and they want this election to go well. This is their show-piece election where they move to the next stage of their constitution being implemented so whoever wins, they will have ultimate control," Farmaner said.
The NLD, which is seen as a major challenger to President Thein Sein's ruling Union Solidarity and Development Party (USDP), is leading in the polls. The elections have been marred by claims that the NLD knowingly sidestepped Muslim election candidates, while thousands of Muslims - most of whom are Rohingya Muslims from Rakhine state - have been denied to right to vote.