Myanmar's opposition leader and human rights champion Aung San Suu Kyi has said that she would be "above the president" if her party wins historic elections taking place on Sunday (8 November).
Defying a constitutional ban on becoming head of state herself, Suu Kyi risks to complicate her already fragile relations with Myanmar's military at a time when her National League for Democracy (NLD) is leading in the polls. The NLD is seen as a major contender in the elections.
"If we win, and the NLD forms a government, I will be above the president. It's a very simple message. I will lead the government and we will have a president who will work in accordance with the policies of the NLD," she told journalists at her lakeside home in Yangon, Myanmar's largest city, at her final press conference of the election campaign.
The Times reported that Suu Kyi said that she "will run the country" and lead an NLD government, in case of victory at the first general election since a semi-civilian government took power in 2011 after nearly 50 years of military dictatorship.
When asked if this arrangement violated the constitution, Suu Kyi replied: "No. The constitution says nothing about somebody being above the president."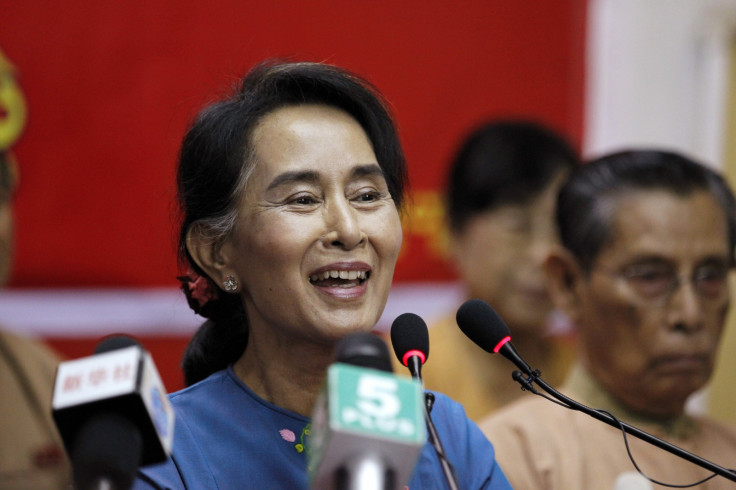 However, the country's constitution states that the president "takes precedence over all other persons" in Myanmar. Drafted in 2008, the charter explicitly outlaws those with foreign-born offspring to take the president's post. Suu Kyi's two sons, Alexander and Kim, were both born outside in Britain.
Suu Kyi also said the NLD had collected reports of advanced voting "carried out in a totally illegal way."
Two months of campaigns have turned the elections into a referendum on the 70-year-old and the country's reform progress. Earlier, Myanmar President Thein Sein warned of bloodshed if his ruling party loses in the elections. He posted a video warning on Facebook, threatening an uprising similar to the Arab Spring.
The video shows scenes of violence juxtaposed with shots of peace, purportedly of Myanmar after 2011. "Only when peace prevails will democratisation be implemented," the video says at the end.
Thein's ruling Union Solidarity and Development Party (USDP) faces its first polls after 25 years. More than 30 million people are expected to vote in the 8 November elections. Meanwhile, a member of the USDP, Shwe Mann, has hinted at extending support to Aung San Suu Kyi.