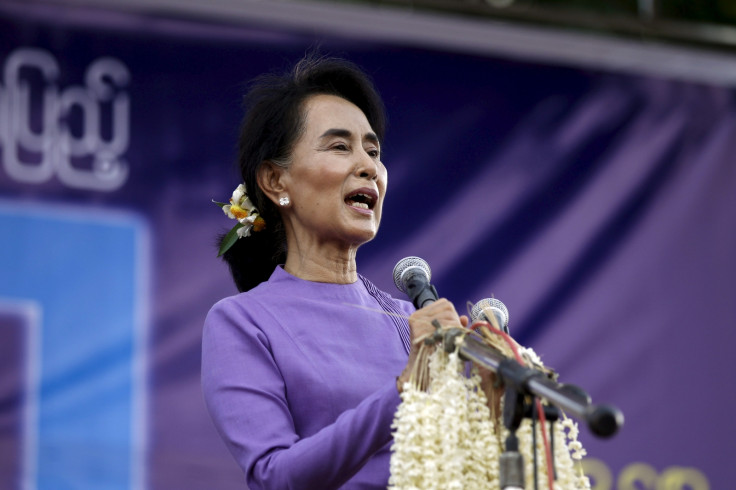 Myanmar's celebrated opposition leader Aung San Suu Kyi is heading to China on her debut visit intended to improve relations between the two neighbours.
In this key diplomatic push, Suu Kyi will meet Chinese President Xi Jinping and Premier Li Keqiang during her trip, though the specifics of the agenda are sketchy.
Her trip is part of a five-day meeting between delegates of her opposition National League for Democracy (NLD) and China's ruling Communist Party.
China and Myanmar enjoyed close relations especially when the latter was under western sanctions following the country's military junta rule. The 69-year-old Nobel laureate's visit has come before elections in Myanmar scheduled for November this year.
Her visit to China, where another Nobel peace laureate, Liu Xiaobo, remains in prison for his pro-democracy views, is expected to have repercussions in the Myanmar polls - given that it is conducted in a free and fair manner.
Regardless of the outcome of the elections Suu Kyi, who is barred from becoming president according to the junta-written constitution, is expected to wield an enormous amount of influence if her party performs well.
Suu Kyi, who has spent several years in custody under the authoritarian military government, has always maintained that her country should keep cordial ties with Beijing.
"There are question marks on both sides as to where that relationship is headed. It is useful for [the Chinese leadership] to play the Suu Kyi card to try and have a different approach, a different avenue to get their message across," Jurgen Haacke, a political observer with the London School of Economics, told the Associated Press.
The increasing violence in Myanmar's Kokang region, which borders China, is thought to be one of the key reasons for the improving of relations between the two countries.
Besides establishing a working relationship with Suu Kyi, the Chinese authorities will also have the opportunity to shore up its influence in the Southeast Asian nation, which quietly drifted towards the western world in recent years.